News
November 28, 2013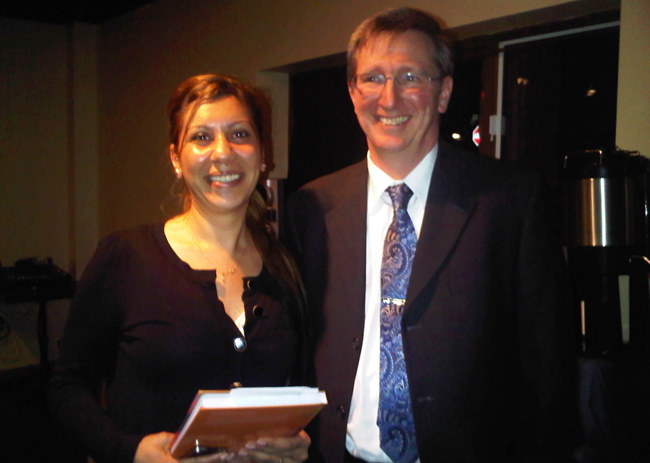 ATS Scientific Inc. actively participated at the 59th ICASS and Spectr'Atom conference, held June 25-28th at the Grand Lodge, in Mont-Tremblant, QC. This was the first combined event for the Canadian based CSASS' annual ICASS (International Conference on Analytical Sciences and Spectroscopy) and the annual conference of Spectr'Atom, the Spectroscopy society based in France.
Along with being a conference exhibitor showing their many spectroscopic products, ATS staff presented two technical papers in both official Canadian languages on the new Milestone UltraWAVE laboratory microwave system.
ATS Scientific also provided an award for best student poster to PhD student Azza Habibi of IRSN (Institut de Radioprotection et du Surete Nucleaire) in Orsay, France. Her poster presentation showed the analysis of uranium and thorium in environmental samples by a combination of liquid chromatography and ICP-MS. The results obtained provide us with a better understanding of the properties of thorium. Excellent performance in terms of efficiency, accuracy and reproducibility were obtained, with protocols taking less than two hours. Applying this coupling technique to other radionuclides could be useful in the event of a nuclear accident. Pictured are Azza and Gilles Groulx of ATS Scientific at the conference banquet.
October 27, 2013
ATS Scientific Inc. is proud to announce their appointment as Velp Scientifica's exclusive Canadian Distributors for their Food & Feed line.
Since its inception in 1983, VELP Scientifica has been providing analytical instrumentation and sample preparation equipment to worldwide markets involved in Food & Feed, Environmental and other types of analysis. Their clients include: government researchers, industrial laboratories, private analytical laboratories and university researchers. ATS Scientific has reliably sold synergistic product lines for over 20 years and welcomes this newest addition.
Demonstrations units are currently available for immediate "plug and play" evaluations!
Velp's commitment to environmental awareness has resulted in their products designed with "TEMS™ Savings" - Time, Reduced Energy Consumption. Their corporate headquarters location incorporates Geothermal Energy and Voltaic Panels thus reducing their carbon footprint.
VELP provides premium food, feed and beverage analyzers to research centers and companies for N/Protein Determination (Kjeldahl and Dumas), Solvent Extraction (Soxhelet, Randall) , Fiber Analysis (Weende, Van Soest) and other parameters.
Contact: Gilles Groulx, ATS Scientific National Sales Manager for inquiries @ ggroulx@ats-scientific.com