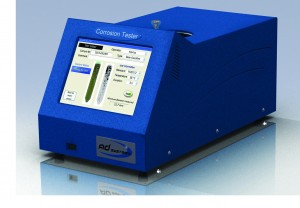 NACE Spindle Corrosion Test CT10
The corrosivity of petroleum products (gasoline and other distillates) must be determined before transportation through pipelines in order to control the internal corrosion of pipelines. The NACE TM01721 test for "Determining Corrosive Properties of Cargoes in Petroleum Product Pipelines" is considered a reference test and is the most widely used laboratory test for this purpose.
The CT10 performs an objective and accurate rating of the test specimen.
A new instrumental approach for measurement of corroded surface area has been developed by AD Systems in which the exact percentage of corroded area is accurately determined by an automatic instrument reducing test subjectivity. The innovative CT10 instrument images the whole surface of the specimen. Operation is based on a homogeneous lighting source, CCD camera, specimen rotation system, and specially designed Windows CE® application software. The test can now be run unattended which reduces labor costs.
More information