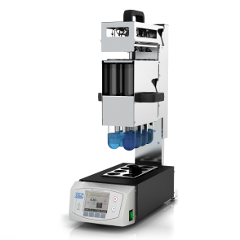 DEMO DKL 8 Automatic Kjeldahl Digestion Unit
VELP Scientifica | Demo Equipment
Demo unit in like-new condition, used for trade show displays only.
Incorporates the revolutionary TEMS™ technology for unprecedented Savings in terms of:
Time Saving: from Ambient to 420 °C in only 22 minutes
Energy – consumption reduced by as much as 35%
Money savings resulting in reduced costs per analysis
Space Savings with small footprint design
Key Features:
Built in microprocessor enables full control of the block temperature & electronic auto-calibration system ensures excellent reliability and repeatability of analysis.
LCD Graphic Display allows access to all the data including the multi-language library and the 54 programs available, 24 of which are user-programmable.
Compact with a narrow footprint for optimum use of space on the lab bench. In compliance with GLP (Good LaboratoryPractice), data can be printed or stored in a PC.
Neutralization of fumes produced during the digestion is accomplished with recommended JP Pump and SMS Scrubber.
Temperature Ambient to 420 C in less than 22 minutes.
More Information: