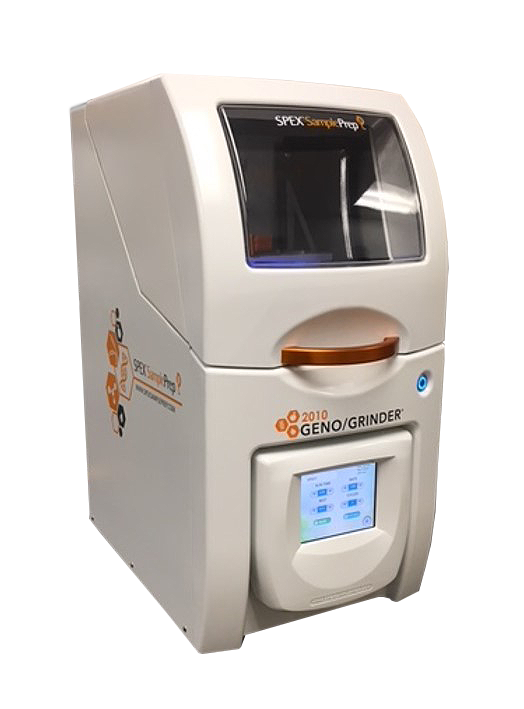 Geno/Grinder 2010 High throughput tissue homogenizer
SPEX SamplePrep | Cannabis Testing, Cell Disruption
High-throughput plant & tissue homogenizer with an adjustable clamp that accommodates a variety of formats ranging from deep-well titer plates to centrifuge tubes. Specifically designed for rapid cell disruption, lysis and tissue homogenization while preserving temperature sensitive samples. Typical samples include plant and animal tissue, cell cultures, seeds, yeast and bacteria. CE Approved.
Key Features and Specifications
Automated mechanical disruption ideal for high-throughput applications involving sample preparation for DNA, RNA, and protein extractions, pesticide residue analysis, and more.
Typical pressing cycle is less than two minutes.
Equipped with digital timer, lockdown lid, and safety interlock for operator protection.
Laboratory mill designed for vigorous up-and-down shaking of deep-well titer plates, vial sets, and centrifuge tubes.
Optional Kryo-Tech Accessories enable cryogenic grinding and preserve temperature sensitive samples for RNA and protein extractions.
Optional Large Clamp Assembly holds four deep-well titer plates, multiple centrifuge tubes, and other large grinding vials.
Standard Clamp Assembly holds two deep-well titer plates, vial sets, or cryo-blocks.
Strong vertical clamp movement of 500-1750 strokes/minute ensures that grinding media directly impact the sample each and every time.
Typical sample processing time of 1-2 minutes.
More Information