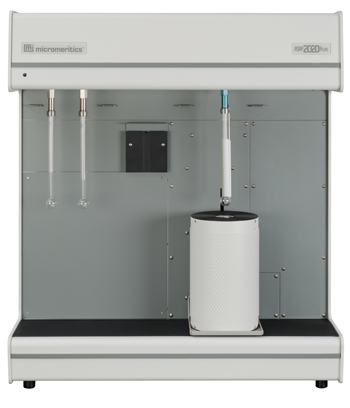 ASAP 2020 Plus - Physisorption Option
Micromeritics | Surface Area and Pore Size
Research grade results in a customer-configurable instrument to meet a wide variety of applications for mesopore, micropore, and low surface area applications
Programmable two-station degas system for automated SOP sample preparation
A dedicated P° sensor allows for a faster analysis and provides P° values at the same conditions as the adsorption measurement.
Six analysis gas inlets with dedicated vapour and helium free-space ports provide greater flexibility and automated selection of pretreatment, backfill, and analysis gases.
Proven Isothermal Jacket Cold Zone Control provides accurate, reproducible temperature maintenance.
Long duration and refillable dewar provides virtually unlimited time-of-analysis capability.
Standard, independent dual vacuum systems (one for analysis, one for sample pretreatment). Also available is an optional, oil-free system.
Proprietary transducer system provides unequalled stability, fast response, and low hysteresis for improved accuracy and signal to noise improvement.
Coated monolithic, temperature-controlled, stainless-steel manifold provides non-contaminating, inert surface areas.