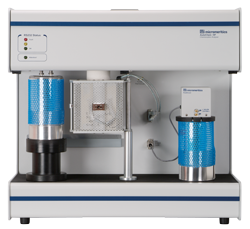 AutoChem 2950 HP Chemisorption Analyzer
Micromeritics | Surface Area and Pore Size
Micromeritics' AutoChem 2950 HP Chemisorption Analyzer is an automated high-pressure catalyst characterization system that is capable of preparing and analyzing samples at elevated pressures up to 1000 psia and at temperatures from -100 to 1100 °C. The instrument can perform a variety of experiments including pulse chemisorption, BET surface area, temperature-programmed reduction (TPR), desorption (TPD), oxidation (TPO), and reaction analyses.
Equipped with many of the features of Micromeritics' AutoChem II 2920, the AutoChem HP is suitable for a variety of applications including fuel cell and hydrogen storage research.
This microreactor, combined with a mass spectrometer, can also be used to determine product yields and catalytic activity under commercially viable conditions.
The use of a microreactor in the development process is a cost-effective alternative to pilot plants for many development projects. A microreactor is also an affordable option for small start-up companies that cannot afford to invest in a pilot plant to demonstrate their process.
Allows preparation and analysis of sample at pressures up to 1000 psia with built-in safety checks


Versatile analysis protocol permits complex sequencing and experimental design


In situ experiments with virtually unlimited steps


Records pressure as part of the experiment


Capable of TPD, TPR, TPO, BET, and pulse chemisorption


Three mass flow controllers and an electronically controlled pressure regulator provide precise gas control


Twelve gas inlets – four each for preparation, carrier, and loop gases


Stainless-steel sample tubes are capable of withstanding temperatures and pressures well above the system's limits


An interactive reporting system that includes an extremely versatile graphic user interface allowing custom presentation of results