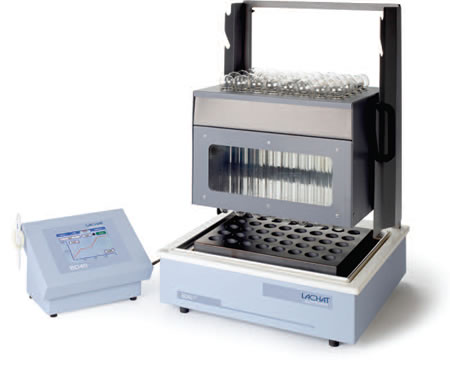 Block Digester BD 40
Lachat Instruments | Sample Preparation - Inorganic
Kjeldahl digestions made easy - Lachat's BD40 Block Digestor will improve accuracy, precision and productivity of your high - temperature digestions. Developed to digest total Kjeldahl nitrogen and total phosphorus samples, the BD40 brings key features to this well-accepted block digestion technique.
Built for harsh environments
The BD40HT block digestor utilizes the latest in graphite block technology, with silicon carbide (SiC) coated graphite blocks which resist aggressive corrosion.
Small footprint
With a two-tier, dual zone tube rack, the BD40 space used is reduced by 50%, allowing more room for other lab instruments.
Ease of use
An intuitive touch screen controller with a color display, and over 10 built-in languages to select from, makes operating your digestor quick and easy.
Total control at your fingertips
The BD40 controller allows for storing 12 custom methods with 3 programmable levels, shows a graphical representation of the heating profile in real-time, and comes with built-in safety features such as automatic shutdown.
All the accessories you need
Lachat offers all the accessories you will need for digestion— from Glass Ball Condensers, to Heat Deflector Shields and Boiling Chips.
More information