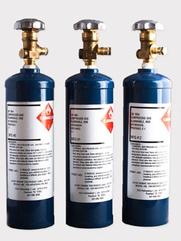 Certified Reference Materials for Natural Gas and Natural Gas Liquids
DCG Partnership I | Chromatography, Spectroscopy
Natural Gas
With Hydrogen Sulfide
With High Carbon Dioxide
With High Ethane
For Hexanes Plus Backflush
For Extended Analysis
For High, Medium, and Low BTU gas
For All Types of NG Analyzers
BTU Standards
Specific Gravity Standards
BTEX Standards
NG Standards 1, 2 & 3 in One Liter Refillable Cylinder
Custom Standards
Natural Gas Liquids Standards
NGL # 's 5 & 6 with or without Neopentane
E/P Standards
Condensate Standards
Custom Standards
Hexanes Plus Fractions (Gravimetrically prepared and verified by one or more analytical techniques)
Hexanes Plus NP / Designed for C6+ backflush applications for which the desired C6+ breakdown is69.5% C6, 23% C7, 6% C8, 1.5% C9
Hexanes Plus CE/ Designed for C6+ backflush applications for which the desired C6+ breakdown is45% C6, 35% C7 & 20% C8
Hexanes Plus BF / Designed for C7+ backflush applications and contains six C6's, C7, C8, C9, C10
Hexanes Plus EX/ Designed for extended analysis applications, contains 58 compounds from C6 - C10
Audit Standards & Round Robin Standards
Audit and Round Robin Standards can be preparedtocustomer specifications forauditing their own facilities, custody transfer points, customer facilities and vendor Facilities. Blend records are kept confidential.
Round Robin Programs
A custom Round Robin program can be designed to meet specific customer needs,from preparing Calibration Standards to managing the entire program. Program records are kept confidential.
Secondary Verification of Calibration Standards
For those critical applications where a secondary verification of a DCG Calibration Standard is desired, a collaboration is available through a third party approved analytical laboratories to assist in this process.
Liquefied Petroleum Gas Standards
Custom Standards
Hydrogen Sulfide
ppb, ppm and % levels in Methane, Nitrogen, Helium
Total Sulfur Standards
Gas Phase (N2, He, C1, C2, C3, C3= Matrices, ppb, ppm & % levels)
Liquid Phase (LPG, ppb, ppm to % levels)
Oxygen in Nitrogen or Helium
ppm to % levels
Total Fluoride Standards
>= 1 ppm Total Fluoride from 2-Fluoropropane in N-Butane by weight
Low Level Oxygenate Standard
Contains 50 ppm each of the following by weight: Methanol, N-Propanol (1-Propanol)Isopropanol (2-Propanol), N-Butyl Alcohol (1-Butanol), Sec Butyl Alcohol (2-Butanol)2-Butanone (Methyl Ethyl Ketone), MTBE, Ethanol, Acetone, Tertiary Butyl Alcohol (2-Methyl-2-Propanol), Isobutyl Alcohol (2-Methyl-1-Propanol), TAME, SBME, ETBE, & 200 ppm of Dimethyl Ether by weight in N-Butane
Custom Standards available upon request
More information