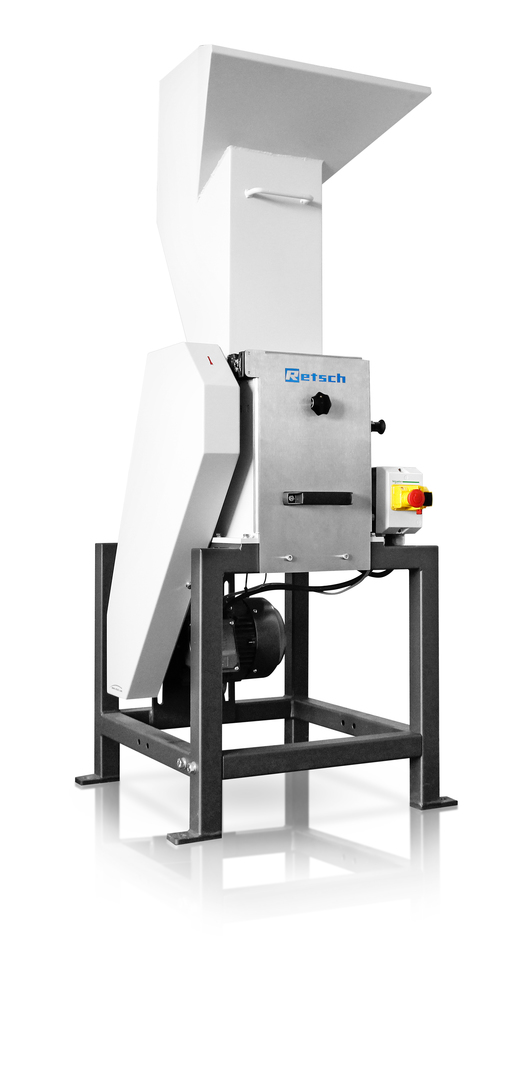 Cutting Mill SM 400
Retsch | Sample Preparation - Inorganic, Sample Preparation - Organic



Cutting mills are suitable for the grinding of soft, medium-hard, tough, elastic, fibrous, and heterogeneous mixes of products. The Cutting Mill SM 400 XL is ideally suited for pre-cutting of large sample pieces but, depending on the application, may also achieve the required fineness in one step.
The high torque of the new 3 kW drive allows for an exceptionally effective preliminary size reduction of heterogeneous mixtures, such as waste or electronic components.
The cutting mill is used successfully for a great variety of materials. The sample is only moderately warmed up during the grinding process so that the mill is perfectly suitable for grinding temperature-sensitive materials. Due to the large open surface of the 240 mm x 240 mm bottom sieve, it is possible to grind large sample quantities and to increase the throughput.
When operated with the optional cyclone-suction-combination, the SM 400 XL is also suitable for grinding light sample materials. In combination with the wide choice of bottom sieves, hoppers and collecting vessels, the mill can be easily adapted to varying application requirements.
Key Features and Specifications
Powerful size reduction thanks to 3 kW drive with high torque and
Optimum cutting effects
Quick and easy cleaning due to fold-back hopper, smooth surfaces and push-fit rotor
defined final fineness due to bottom sieves with aperture sizes from 1 - 20 mm
Wide range of accessories including various hoppers, collection systems, rotors and sieves
Highest safety standards due to engine brake, central locking device, electronic safety check and base frame
More Information