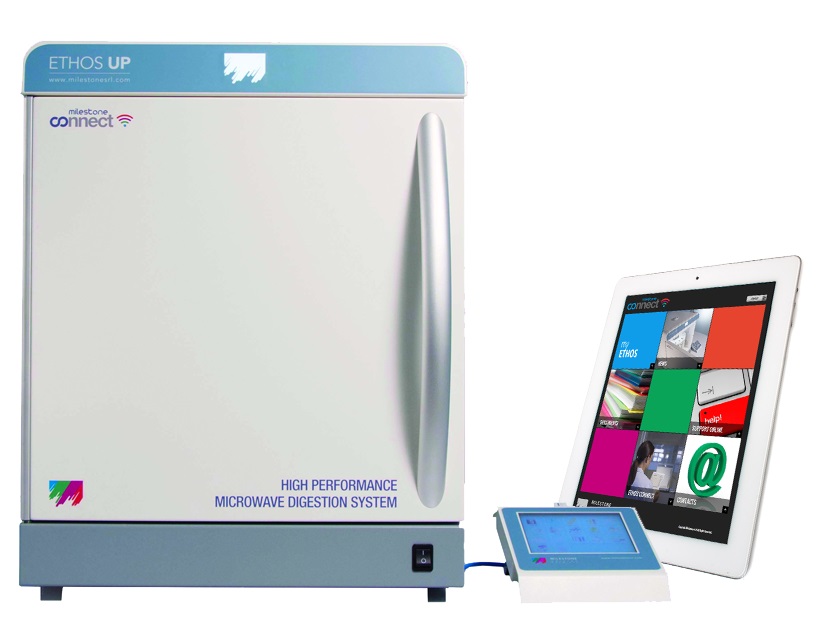 Microwave Digestion System Ethos UP
Milestone Inc | Sample Preparation - Inorganic, Cannabis Testing
The World's most intelligent microwave digestion system, new ETHOS UP raises the bar for in a rotor-based microwave digestion system. With over 300 pre-set digestion methods built in, the UP's exclusive EasyControl software is the smart approach to microwave sample preparation. The Ethos UP features Milestone Connect with remote system control, 24/7 technical support and direct access to a comprehensive library of content developed especially for lab professionals.
Milestone Ethos UP isn't just intelligent; it's also the most powerful microwave digestion system on the market today. Featuring the highest throughput rotors, stainless steel construction and patented vent-and-reseal technology, the Ethos UP ensures market-leading safety and productivity. Complies with with EPA methods 3015/ 3051 and 3052 and USP ,
Features
Intuitive EasyCONTROL software is CFR Part 11 compliant
Enables remote system control with Miletsone Connect Web app fully compatible with PC, Tablet and Smartphone devices.
Built in 300 + pre-set methods minimize method development and maximize productivity
Up to 44 samples can be simultaneously digested with the Maxi 44 high throughput rotor with patented vent and reseal technology. It is by far industry's highest throughput. For laboratories requiring high pressure, a 15 vessel position Rotos is also available
Built in SafeVIEW, a high definition digital camera, interfaced to the instrument terminal set the industry standard for utmost in safety enabling users to view the entire digestion run in real time alongside the digestion parameters.
All 18/8 stainless steel cavity, best in the industry, fitted with a heavy duty, spring mounted door for optimum operator safety and long operating lifetime. The door and cavity have a multi-layer PTFE plasma coating, applied at 350°C, with a 5 year warranty against corrosion.
More information