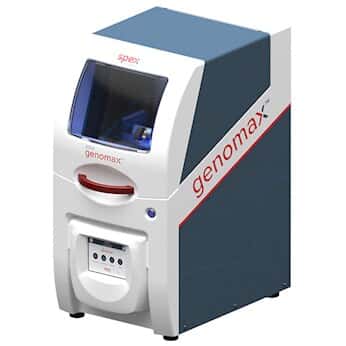 Genomax 2050
SPEX SamplePrep | Sample Preparation - Inorganic, Sample Preparation - Organic, Cannabis Testing
Automated Tissue Homogenizer and Cell Lyser for Biological Applications
The Genomax is an automated high-throughput plant and animal tissue homogenizer and cell lyser designed for rapid cell disruption, cell lysis and tissue homogenization through bead beating. This enables fast and efficient extraction of nucleic acids, proteins and other molecules.
The Genomax is programmed via touch screen interface allowing users to set and store run time, operating rate, pause time and cycles. Protocols can be passcode protected. The Genomax comes pre-loaded with one-touch protocols for plant and animal tissue homogenization.
DNA isolation kits are available for extraction and purification of DNA from animal and plant tissues. In addition, a full range of Kryo-Tech® accessories are available to preserve temperature sensitive samples.
Automated mechanical cell lysis through bead beating, ideal for DNA/RNA and protein extraction
High-throughput tissue processing designed for clinical, pharmaceutical and biological applications
The 2051 General Purpose Clamp is supplied with the Genomax for processing vials, tubes and jars, ranging size from 1 mL to 750 mL
New 2052 Titer Plate Clamp available for securing titer plates to prevent leakage during homogenization
Kryo-Tech®accessories available to preserve temperature sensitive samples for nucleic acid and protein extractions