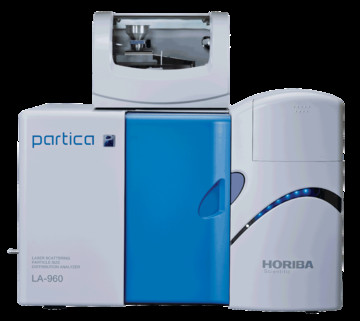 Laser Diffraction Particle Size Analyzer LA 960
HORIBA | Particle Size Analysis
The LA-960 built on the success of HORIBA's predecessor systems now offers the widest measuring range in a single instrument from 10 nanometers to 5 millimeters! HORIBA's particle size analyzers are successfully used to solve a wide range of application issues in the following: Pharmaceuticals (particle size is a predictor of dissolution rate/ dosing, bioavailability) Functional Polymers ( particle size affects performance characteristics), Battery R & D and Manufacture (particle size influences capacity/ coulometric efficiency) Pigments (particle size affects blurring/ smudging during printing application) Paper Manufacture (particle size of fillers eg. Calcium Carbonate, Latex and other minerals affects gloss, brightness, surface smoothness), Mining/Minerals (particle size affects performance compounds used in Abrasives, Construction materials, Fracking)
Features and specifications
Widest dynamic range (0.01 - 5000 µm) The LA-960 is the only instrument capable of measuring 10 nanometers and 5 millimeters in the same instant for the same measurement
Fastest Sample-to-Sample Measurement Time - Less than 60 Seconds
Unequaled Accuracy, Precision, and Reproducibility - Guaranteed: Accuracy guaranteed to within 0.6%, Precision guaranteed to within 0.1%.
Superior instrument to instrument precision regardless of the manufacture date, operator skill or geographic location.
Automatic laser alignment in seconds.
Method Expert Software empowers users with a simple yet powerful way of creating methods for research and development and QC without in-depth user training
Fastest Sampling System Change: The unique measurement cell system allows up to three sample dispersion systems to be mounted simultaneously on a cell tray eg. Wet/ Dry or
Additional sample accessory options include: MiniFlow circulation system (reduces amounts of sample and dispersion volume requirements) Fraction Cell (Precious samples/ drug discovery) and a Paste Cell (for samples that cannot be diluted or viscous).
Data correlation to historic data on other instruments is often possible with assistance of HORIBA's team of applications support experts.
More information