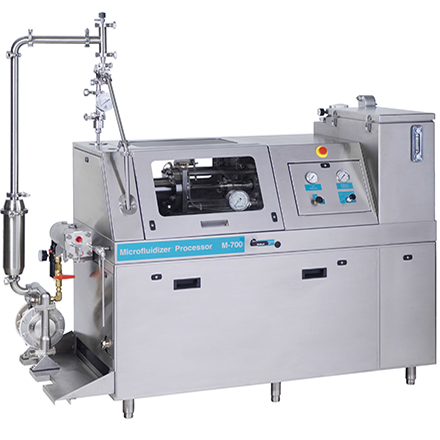 High Shear Fluid Processor M-700
Microfluidics | Materials Processing, Cannabis Testing
Microfluidics produces patented Microfluidizer processor equipment with high-pressure, fixed-geometry interaction chambers that impart high shear rates to product formulations. The M-700 generates up to 40,000 psi operating pressure for premium results at an affordable cost.
Key Features and Specifications
Proven to be highly reliable at operating pressures up to 40,000 psi in pilot and production environments.
Generates the highest shear rates of any fluid processor on the market today. This results most often, in achieving desired product quality in a single pass.
Patented interaction chamber — wear-resistant construction; geometrically fixed design ensures that entire product stream will encounter equal energy per unit fluid volume.
Model M-7250 units are standard with two synchronized intensifier pumps for increased flow rates.
In-line cleaning with no disassembly required
All stainless steel construction.
More Information
Technical note: Creating stable nanoemulsions using Microfluidizers