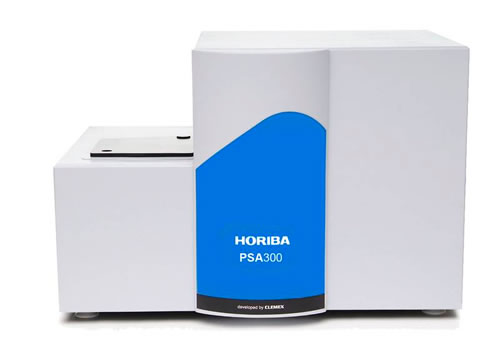 PSA 300 Particle Size/Particle Shape Analyzer
HORIBA PSA300 is a state of the art turn-key automated image analysis solution. Seamless integration of powerful particle characterization software and an automated microscope with high resolution camera creates an intuitive, easy-to-use imaging workstation. The PSA300 is a versatile particle size and particle shape analysis tool that can be used in a wide range of applications in the pharmaceutical industries and material science. It is a turnkey solution for labs that want to maintain an analytical microscopy environment with minimum intervention by the operator yet still yield maximum detail in the results.
Features
• Particle shape information - particle size and shape as well impacts the physical characteristics of many particulate materials.
Sensitivity and accuracy - PSA300 features excellent resolution and detection of micronized particles as small as 0.5 microns. Particle volume determination is based on absolute 2D measurements and thus not limited to spheroids.
Repeatability - Microscope parameters and camera settings are saved as properties in the routine associated with each sample. In conjunction with an automated workstation, an image analysis routine can be executed multiple times with no deviation from the initial results.
High Throughput - Data collection is achieved through multiple field analysis using a Clemex 4-slide sample holder and motorized stage. Our robotic image analysis system will allow the user to measure large number of slides simultaneously without any operator intervention.
Results Management - PSA300 automatically calculates various measurements simultaneously on thousands of individual particles. It is capable of generating statistically significant results in an amazingly short time. The powerful report generator allows speedy data processing and flexible reporting capabilities.
More information