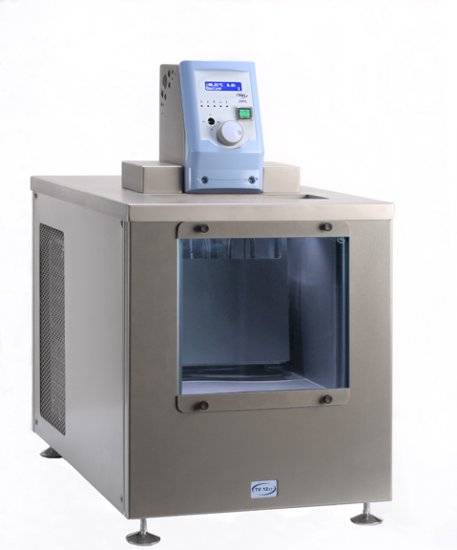 Tamson TV12LT Low-Temperature Circulating Bath
DC Scientific | Sample Preparation - Inorganic
New! Kinematic viscosity baths for low temperatures!
The TV12LT is a unique small-sized bench top visibility bath. Working temperature ranges from -50°C up to +80°! An integrated cooling system is able to lower the bath temperature down to -50°C. The cooling power can be controlled so that the heat removal capacity is trimmed to the desired set point temperature, saving up to 75% of energy in comparison to conventional systems.
Tamson viscometer and Tamson calibration baths are specially designed for tests requiring an ultra precise temperature control, or processes which need to be followed visually, e.g. viscometry, thermometer and sensor calibration, density and reaction rate measurement. The TV12LT has heated windows keeping them clear and preventing built up of moisture. The window-heating is thermostat driven and kept around 30°C. Even when the bath is switched off (during the night), you can keep the window heating on, preventing the built up of condensate on the window because of the cold bath liquid.
More information