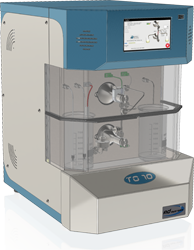 TO10 Thermal Oxidation Stability Test Rig
AD Systems | Chemical Identification
The ASTM D3241 / IP 323 Thermal Stability test is one of the most important tests for the jet fuel quality. This test method was inherently limited due to the subjectivity in the color standard for tube deposit rating
Recently advanced testing metrics (called metrological method) for quantifying the thermal stability characteristics of jet fuels was declared the referee technique by jet fuel specification bodies.
This new approach highlighted the weaknesses of the existing thermal jet fuel oxidation test rigs. By precisely mapping the thermal oxidation deposit on the surface of the aluminum tube, it became possible to identify issues with existing test rigs that were undetectable with the visual (VTR) rating.
Based on these finding, AD Systems developed a new jet fuel thermal oxidation test rig (TO10) that ensures perfect fuel preparation, perfect fuel flow control, a perfect heater tube temperature profile and perfect thermal deposit quantification with the Deposit Rater - DR10.