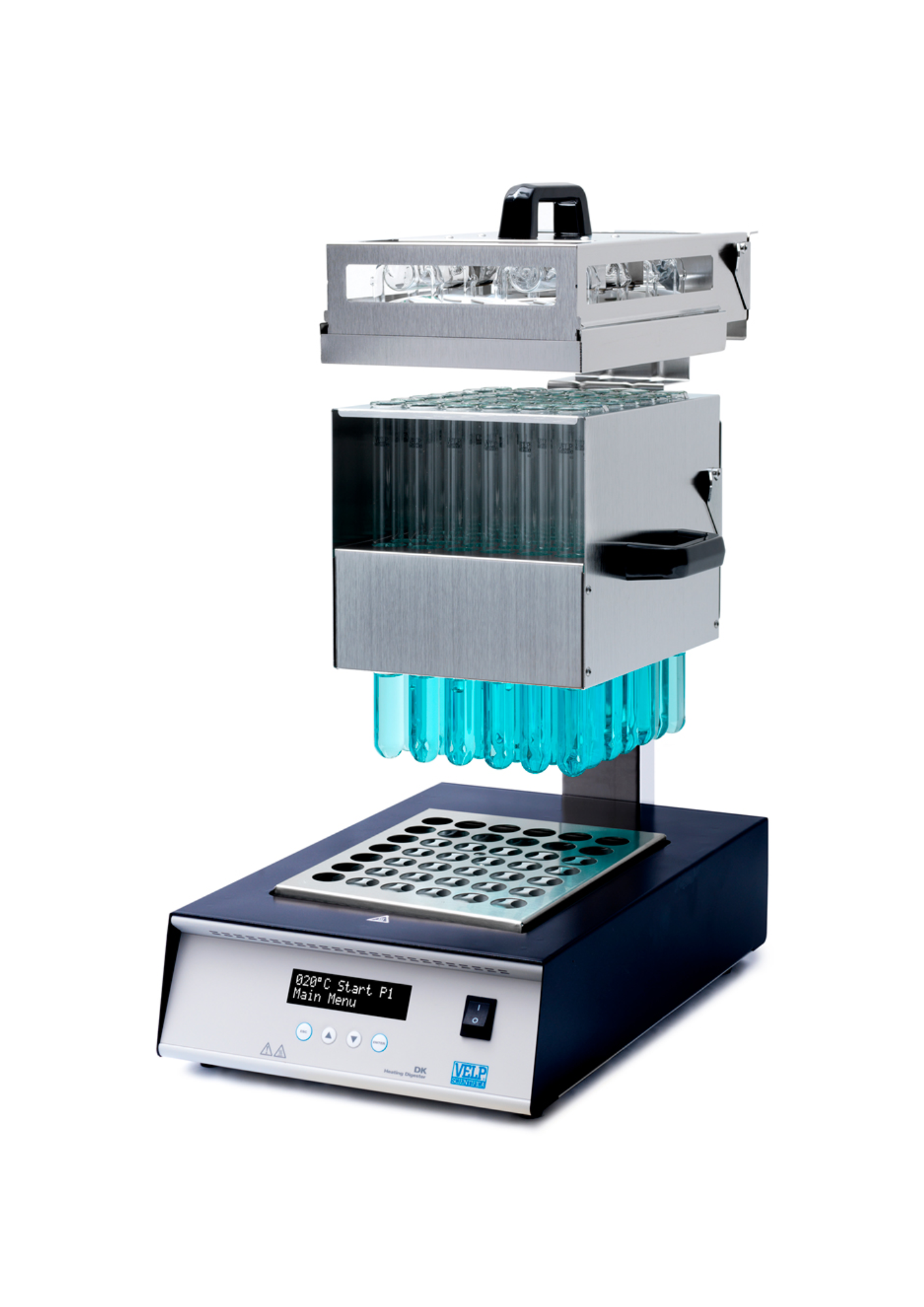 Kjeldahl Automatic Digestion Units
VELP Scientifica | Kjeldahl Digestion Units



AUTOMATIC DIGESTION UNITS

Sample preparation is a crucial part of the Kjeldahl analysis in order to obtain accurate and precise results. The DKL Series digesters are fully automatic units where manual operations have been drastically reduced: lowering and lifting of the samples takes place automatically.
You just need to weigh your sample, add the reagents and catalysts and select the method.
| | |
| --- | --- |
| DKL 8 | (8 positions for 250 ml test tubes, Ø 42 mm) |
| DKL 12 | (12 positions for both 250 and 400 ml test tubes, Ø 42 mm) |
| DKL 20 | (20 positions for both 250 and 400 ml test tubes, Ø 42 mm) |
| DKL 42/26 | (42 positions for 100 ml test tubes, Ø 26 mm) |
Technical Specifications:
DKL 8
DKL 12
DKL 20
DKL 42/26
CONSTRUCTION MATERIAL
Stainless steel with chemicalresistant coating
LIFT AND SUCTION CAP CONTROL
Automatic
CONTROL SYSTEM
Microprocessor with LCD Graphic Display
TEMPERATURE RANGE
Room temp. to 450°C
TEMPERATURE ACCURACY
± 0.5 °C
SET TEMPERATURE
Digital Readout in °C, °F or K
TEMPERATURE CALIBRATION
Automatic
PROGRAM LIBRARY
54 Program library, including24 user-programmable
memories
TEMPERATURE RAMPING
4 ramps per program
TIME SELECTION
1 to 999 Minutes - 1 MinuteSteps
COUNTDOWN
Digital Readout
LANGUAGES
UK, I, E, F, RUS, CN+ Additional downloadable
INTERFACE
USB
RUN COMPLETED ALERT
Visual and Acoustic Signal
DAMAGED TEMPERATURE PROBE
Automatic Detection andAlarm Message
HEATING PLACES
8
12
20
42
SIZE OF TUBES
250 ml
250 ml / 400 ml
250 ml / 400 ml
100 ml
POWER
1150 W
1500 W
2300 W
2300 W
OVERALL DIMENSION (WxHxD)
210x690
x540 mm
266x690
x540 mm
322x690
x584 mm
322x690
x584 mm
OVERALL WEIGHT
19.7 kg
23.3 kg
30.8 kg
33.5 kg

Supporting Materials: