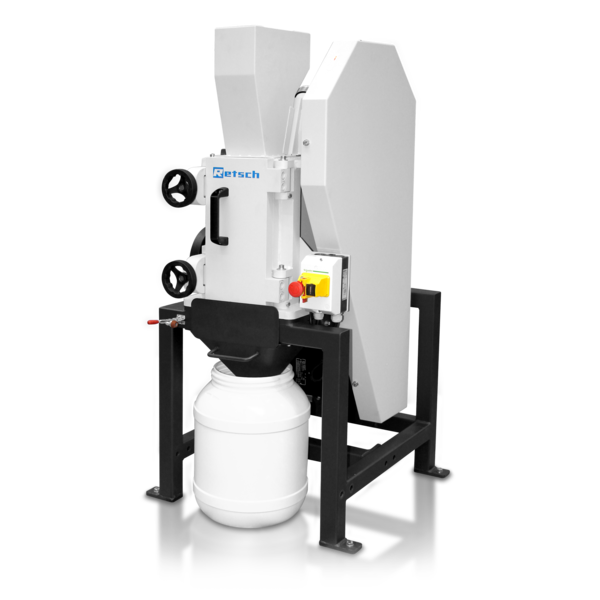 Jaw Crusher BB 250
Retsch | Sample Preparation - Inorganic


The Jaw Crusher BB 250is used for the rapid, effective crushing and pre-crushing of medium-hard, hard, brittle and tough materials.
For small amounts of sample the BB 250 is usedbatch-wise; for larger amounts it can be operatedcontinuously. Control of the gap width and zero point adjustment allow for reproducible results.
Thanks to the modular construction of housing and frame this jaw crusher is suitable for a wide range of applications.
Application Examples
alloys, basalt, cement clinker, ceramics, chamotte, coal, coke, construction materials, feldspar, glass, granite, minerals, ores, oxide ceramics, quartz, rocks, silicon, slag, ...
Product Advantages
high crushing ratio
front door facilitates cleaning
infinite/continuous gap width setting
overload protection
wide range of materials for contamination free grinding
no-rebound feed hopper, removable
sample collector with safety switch
collecting receptacle with outlet for continuous operation
connector for dust extraction
special version with automated sorting of undersize (3 fractions) and oversize (1 fraction)
Features
Applications coarse and pre-crushing
Field of application chemistry / plastics, construction materials, engineering / electronics, environment / recycling, geology / metallurgy, glass / ceramics
Feed material medium-hard, hard, brittle, tough
Size reduction principle pressure
Material feed size* < 120 x 90 mm
Final fineness* < 2 mm
Material of grinding tools manganese steel, stainless steel, tungsten carbide, steel for heavy-metal free grinding
Jaw width 120 x 90 mm
Gap width setting 0 - 30 mm
Gap width display scale
Zero point adjustment yes
Wearing rate display yes, up to minus 10 mm
Removable hopper yes
Dust extraction unit yes
Central lubrication -
Process line version optional
Collector capacity 10 l
Base frame vario frame (adjustable for continous crushing)
Drive 3-phase motor
Drive power 3.0 kW
Electrical supply data different voltages
Power connection 3-phase
Protection code IP 55
W x H x D closed 695 x 1399 x 719 mm
Net weight ~ 350 kg
More information