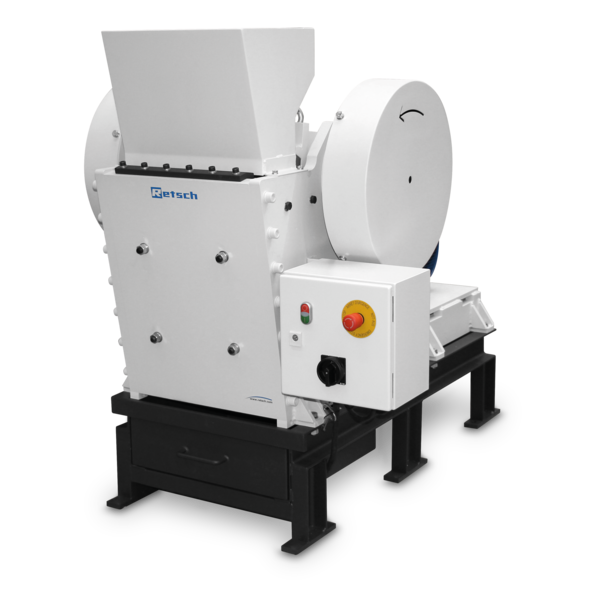 Jaw Crusher High Capacity/ High Throughput BB 600
Retsch | Sample Preparation - Inorganic
The Jaw Crusher BB 600 XL is used for rapid, effective, crushing and pre-crushing of medium-hard, hard, brittle and tough materials.
Due to the low installation height (1 m), the BB 600 XL is ideally suited for continuous operation in automatic installations and sampling stations. Thanks to the compact design of the BB 600 XL it may replace a jaw crusher in existing installations.
Small sample amounts with large particle sizes can be crushed batch-wise in the Jaw Crusher BB 600 XL.
Application Examples
alloys, basalt, cement clinker, ceramics, chamotte, coal, coke, construction materials, feldspar, glass, granite, minerals, ores, oxide ceramics, quartz, rocks, silicon, slag, ...
Product Advantages
high crushing ratio
high throughput up to 3,500 kg/h
adjustable gap width setting
overload protection
size of breaking jaws 600 mm high / 400 mm wide
no-rebound feed hopper
easy-to-clean crushing chamber
continuous and batch-wise crushing
connector for dust extraction
central lubrication (optional)
suitable for integration in automatic installations
Features
Applications coarse and pre-crushing
Field of application chemistry / plastics, construction materials, engineering / electronics, environment / recycling, geology / metallurgy, glass / ceramics
Feed material medium-hard, hard, brittle, tough
Size reduction principle pressure
Material feed size* < 350 x 170 mm
Final fineness* < 6 mm
Material of grinding tools manganese steel
Jaw width 400 x 240 mm
Gap width setting 6 - 60 mm with spacer plates
Dust extraction unit yes
Central lubrication -
Process line version optional
Collector capacity 30 l
Drive 3-phase motor
Drive power 15 kW
Electrical supply data different voltages
Power connection 3-phase
Protection code IP 55
W x H x D closed 925 x 1600 x 1370 mm
Net weight ~ 1350 kg
Please note:
*depending on feed material and instrument configuration/settings
Function Principle
The Jaw Crusher BB 600 XL is arobust and powerful jaw crusher. The feed material passes through the no-rebound hopper and enters the crushing chamber.
Size reduction takes place in the wedge-shaped area between the fixed breaking jaw and the moveable breaking jaw driven by an eccentric drive shaft. The elliptical motion crushes the sample which then moves downwards under gravity.
On reaching the discharge gap width, it falls into a removable collector or, for continuous applications, on a conveyor belt, vibratory feeder or sampler.