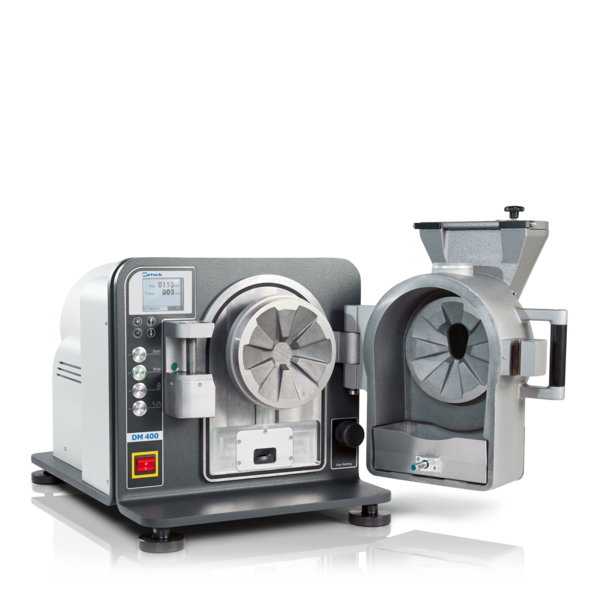 Disc Mill DM 400
Retsch | Sample Preparation - Inorganic



The DM 400 is the new comfort model for fine grinding of medium-hard, hard and brittle materials down to 0.05 mm.This model is based on the well-proven DM 200 but offers improved safety features due to the automatic locking of the collecting vessel and grinding chamber, as well as particularly convenient operation thanks to the motor-driven grinding gap adjustment with digital gap display. The clearly structured display shows all grinding parameters.

Thanks to its robust design, the Disc Mill DM 400 can be used under rough conditions in laboratories and pilot plants, as well as online for the quality control of raw materials. The powerful DM 400 requires only a few minutes to achieve the desired grind size.
APPLICATION EXAMPLES
bauxit, cement clinker, chalk, chamotte, coal, coke, concrete, construction waste, dental ceramics, dried soil samples, drilling cores, electrotechnical porcelain, ferro alloys, glass, granite, gypsum, hydroxyapatite, ores, quartz, sewage sludge, sintered ceramics, slag, soils, steatite, ...
PRODUCT ADVANTAGES
excellent crushing performance
convenient grinding gap adjustment in 0.05 mm steps - with digital gap display
TFT display with robust membrane keyboard
large, removable plastic funnel with smooth inner surfaces for easy cleaning and optimum material feeding
wear compensation of grinding disc thanks to zero point adjustment
Smooth inner surfaces of grinding chamber allow for easy and residue-free cleaning
additional labyrinth sealing seals the grinding chamber
easy change of grinding discs
optional version with polymer interior coating
FEATURES
Applications: preliminary and fine grinding
Field of application: chemistry / plastics, construction materials, engineering / electronics, geology / metallurgy, glass / ceramics
Feed material: medium-hard, hard, brittle
Size reduction principle: pressure, friction
Material feed size: < 20 mm
Final fineness: < 50 µm
Speed at 50 Hz (60 Hz): 440 min-1 (528 min-1)
Material of grinding tools: zirconium oxide, hardened steel, tungsten carbide, manganese steel
Gap width setting: 0.05 - 12 mm
Collector capacity: 2.5 l
Drive: 3-phase geared motor
Drive power: 1.8 kW
Power connection: 3-phase
Protection code IP 55
W x H x D closed: 520 x 630 x 1050 mm
Net weight: ~ 240 kg