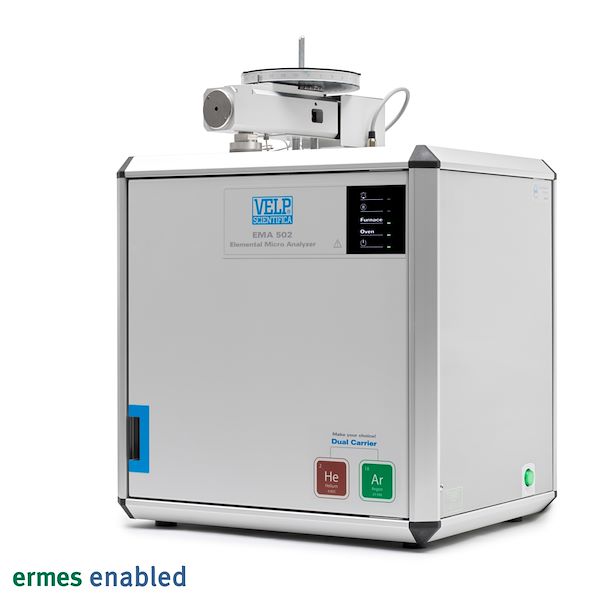 EMA 502 Elemental Analyzer CHNS-O
VELP Scientifica | Elemental Analyzer
EMA 502 Elemental Analyzer CHNS-O is the accurate and reliable solution for the determination of carbon, hydrogen, nitrogen, sulfur, and oxygenin various industrial sectors such as pharma and life science, organic chemistry, petrochemistry and energy, environmental, agronomy, food & feed.

CHNS-O analysis with EMA 502 Elemental Analyzer helps determine the structure of an unknown compound, as well as evaluate the structure and purity of a synthesized compound.

Working in accordance with official reference methods, EMA 502 performsCHNS determination as well as Oxygen determination in just a few minutes, without requiring any add-ons or additional external modules.

EMA 502 is a safe analyzer that does not require aggressive chemicals or time-consuming analysis steps.

Just set your next analysis and access a wealth of information from the sample!
TECHNICAL DATA
METHOD OF ANALYSIS
CHNS: Combustion
O: Pyrolysis
ANALYSIS TIME
CHNS: from 12 minutes
O: from 6 minutes
DETECTOR
TCD (Thermal Conductivity Detector)
SAMPLE WEIGHT
Up to 100mg (depending on C content)
AUTOSAMPLER CAPACITY
up to 4 discs, 30 positions each (up to 117 samples)
PRECISION
≤ 0.2 %
ANALYTICAL RANGE C
0.001 – 20mg with Helium;
0.01 – 20mg with Argon
ANALYTICAL RANGE H
0.001 – 5mg with Helium;
0.01 – 5mg with Argon
ANALYTICAL RANGE N
0.001 – 20mg with Helium;
0.01 – 20mg with Argon
ANALYTICAL RANGE S
0.01 – 6mg with Helium
ANALYTICAL RANGE O
0.005 – 6 mg with Helium
CARRIER GAS
Helium or Argon (Argon for CHN determination)
COMBUSTION / PYROLYSIS TEMPERATURE
CHNS: 1030°C
O: 1060°C
CONNECTIVITY
USB; RS232
ERMES CONNECTION
Yes, via Wi-Fi or LAN connected to a PC
21 CFR PART 11 COMPLIANCE
Yes, accessory
POWER INPUT
570 W
DIMENSIONS (W X H X D)
500 x 510 x 410 mm (H 680 mm with autosampler)
19.7 x 20.1 x 16.1 in (H 26.8 with autosampler)
WEIGHT
45 kg
99 lb