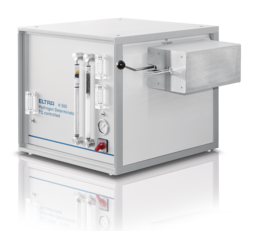 Hydrogen Analyzer H-500
Eltra | Chemical Identification
Determination of hydrogen using the heat extraction method is a special requirement for the characterization of steel, steel alloys, copper and other metals.ELTRA's H-500 is designed for the rapid and accurate determination of hydrogen in these materials.

The H-500 analyzer uses the heat extraction technique and is equipped with a resistance furnace with quartz tube. The temperature can be set up to 1000 °C in steps of 1 °C. The usual working range of the H-500 is about 900° to 1000° C.

ELTRA's H-500 can be customized to the requirements of the user. The analyzer carries up to two different sensitivities of the detectors to allow highest precision for a variety of applications.
Product Advantages
hydrogen determination with heat extraction technique for determination of residual hydrogen
high-capacity thermal conductivity cell
easy calibration with standards or gas dosing
precise measurements even for low concentrations
for samples of up to 10 g and 0.8 x 6 cm size
powerful software (multilingual, customized display, export of results)
low maintenance
robust design allows usage in production control and laboratory
Features
Measured elements: Hydrogen
Samples: metals, steel
Furnace alignment: horizontal / tilting function
Fields of application: engineering / electronics, glass / ceramics, steel / metallurgy
Furnace: resistance furnace with quartz tube, adjustable up to 1000 °C (operating temperature 900 - 1000 °C)
Detection method: thermal conductivity
Maximum sample size: ø 13 x 60 mm
Typical analysis time: 3 - 15 min
Chemicals required: magnesium perchlorate, Schuetze reagents, sodium hydroxide
Gas required: nitrogen 99.995 % pure (2 - 4 bar / 30 - 60 psi)
Power requirements: 230 V, 50/60 Hz, 2 A, max. 450 W
Dimensions (W x H x D): 75 x 52 x 60 cm
Weight: ~ 40 kg
Required equipment: balance (resolution 0.0001g), monitor, PC
Optional accessories: voltage stabilizer 5 KVA