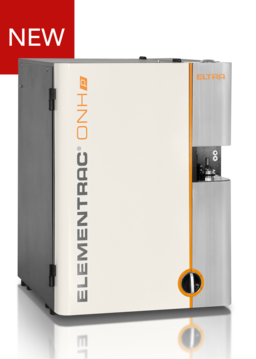 Oxygen / Nitrogen / Hydrogen Analyzer ELEMENTRAC ONH-p 2
Eltra | Chemical Identification
The ELEMENTRAC ONH-p determines oxygen, nitrogen, and hydrogen in inorganic samplesby inert gas fusion in an impulse furnace with temperatures in excess of 3.000 °C.

The ELEMENTRAC ONH-p guarantees precise and fast sample analysis. The analyzer covers a wide range of applications such as metal, ceramics and other inorganic materials.

The ELEMENTRAC ONH-pcan be supplied with up to two infrared cells with different path lengths, accommodating both high and low level oxygen analyses. Nitrogen and hydrogen concentrations are determined in the ELEMENTRAC ONH-pby a robust and sensitive thermal conductivity cell.
Product Advantages
simultaneous oxygen/nitrogen or oxygen/hydrogen determination with inert gas fusion technique
NEW: closed gas management and optimized gas circulation for sensitive ONH determination
NEW: use of cost efficient argon as carrier gas possible
NEW: powerful catalyst furnace for precise oxygen measurement
NEW: gas flow system with electronic gas flow control and new leakage test
NEW: water-cooled sample port system for effective removal of atmospheric gases
flexible configurations and measuring ranges for O, N and H
high sensitivity IR and TC cells with low detection limits
short analysis time
powerful 8,5 kW* impulse furnace for temperatures in excess of 3,000 °C
economic analysis of grains without capsules
NEW: chemicals and tubes are hidden behind a door (removable)
NEW: powerful software (supporting data and application export, comment fields, and many more)
single and multipoint calibration (linear regression)
NEW: cooling via tap water or heat exchanger or chiller
New design allows operation in production control and laboratory
Features
Measured elements: Hydrogen, Nitrogen, Oxygen
Samples: inorganic
Furnace alignment: vertical
Sample carrier: graphite crucibles
Fields of application: ceramics, engineering / electronics, steel / metallurgy
Furnace: electrode impulse furnace (max. 8,5 KW*), temperatures in excess of 3,000 °C
Detection method: solid state infrared absorption for oxygen thermal conductivity for nitrogen and hydrogen
Typical analysis time: 120 - 180 s
Chemicals required: copper oxide, magnesium perchlorate, Schuetze reagents, sodium hydroxide
Gas required: compressed air, helium 99.995 % pure, nitrogen 99.995% pure, argon 99.995% pure (if required), all gases with (2 - 4 bar / 30 - 60 psi)
Power requirements: 3~ 400 V, 50/60 Hz, max. 8,500 W
Dimensions (W x H x D): 57 x 77 x 63 cm
Weight ~ 161 kg
Required equipment: balance (resolution 0.0001g), monitor, PC
Optional accessories: carrier gas purification, external chiller, gas calibration unit