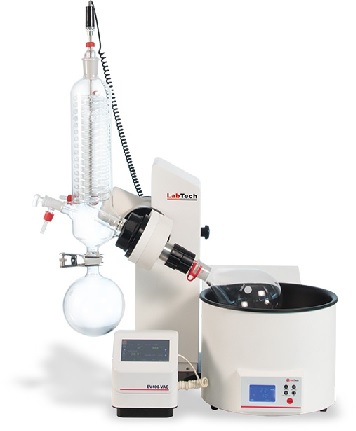 Rotary Evaporators
The LabTech evaporation solutions introduce a new concept in routine distillation/evaporation processes: safety, efficiency and durability to support the lab user work!
With an innovative and ergonomic design, the EV series rotary evaporators include color digital display to monitor and control rotation speed and temperature, motorized vertical lift, evaporation flasks, on line sample adding through PTFE valve and can be completed with the LabTech vacuum and cooling accessories to reach top efficiency of process.
The stand alone heating bath guarantees maximum safety in operations and easy maintenance.
» Total solution
» Programmable operations
» Anticorrosion sealing system
» Integrated vacuum control
» Maximum safety
» Quite operation
» Excellent price/performance ratio
Technology & Design

• Digital rotation speed control andtemperature display ensure accurate andstable unit operations
• Trouble free operation and long lifetime
• PTFE seal loop ensures excellent elasticityand resistance at high temperature acid/solvent corrosion
• Online sample addition by PTFE valveensures high efficiency and easy operation
• Automatic lift-up protection in case ofelectric power failure
• Pre-loaded solvents library