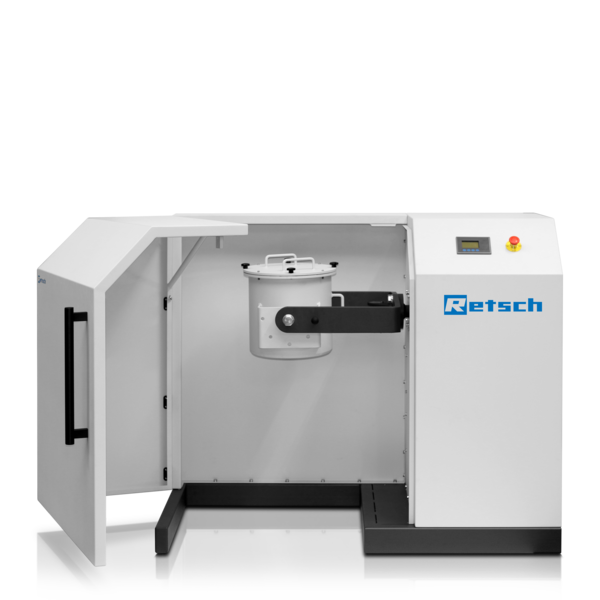 TM 300 Drum Mill
Retsch | Sample Preparation - Inorganic, Sample Preparation - Organic
The TM 300 Drum Mill is used for the preparation of granules and powders.The grinding process is performed either in dry or wet conditions. The drum mill can be operated either as a Ball or as a Rod Mill by using the corresponding module. A sufficient number of balls or rods is required for an effective grinding process. Typically, a final fineness below 20 microns is obtained.

The drum mill consists of a gear motor mounted on a solid steel frame complete with outlet funnel and a set of separation screens plus sample collector. The TM 300 features a yoke and locking mechanism for easy access to the sample. The drum cover is easily removed for cleaning thanks to a quick release locking mechanism.

Adjustment of grinding parameters:
Parameters like grinding time or start and stop are set conveniently via the display. The following factors have an influence on the final particle size: Sample characteristics, maximum feed size and capacity. We will gladly support you in working out the most suitable configuration for your specific application.
APPLICATION EXAMPLES
alloys, bentonite, bones, carbon fibres, catalysts, cellulose, cement clinker, ceramics, charcoal, chemical products, clay minerals, coal, coke, compost, concrete, electronic scrap, fibres, glass, gypsum, hair, hydroxyapatite, iron ore, kaolin, limestone, metal oxides, minerals, ores, paints and lacquers, paper, pigments, plant materials, polymers, quartz, seeds, semi-precious stones, sewage sludge, slag, soils, tissue, tobacco, waste samples, wood, ...
PRODUCT ADVANTAGES
powerful and quick grinding of large quantities
suitable for dry and wet grinding
variable speed, reproducible results
suitable for long-term operations
ball mill and rod mill modules available
easy tilt to empty the grinding jar
solid steel frame
removable sample collector
convenient parameter setting via display
standard sizes of grinding drums from 5 to 43.4 l
separation grid to separate sample from grinding balls (only for Ball Mill)
funnel with handles
guide rail allows for ergonomic removal of drum
grinding jar with gasket for lossfree operation
solid noise-protection hood
emergency switch
FEATURES
Applications pulverizing, mixing
Field of application agriculture, biology, Chemistry, construction materials, engineering / electronics, environment / recycling, geology / metallurgy, glass / ceramics, medicine / pharmaceuticals
Feed material soft, hard, brittle, fibrous - dry or wet
Size reduction principle friction
Material feed size* < 20 mm
Final fineness* < 20 µm
Batch size / feed quantity* minimum 1 l / maximum 20 l
Rotation speed 15 - 80 min-1
No. of grinding stations 1
Material of grinding tools hardened steel
Grinding drum sizes 5 l / 10 l / 21.7 l / 43.3 l
Setting of grinding time digital
Drive 3-phase asynchronous motor with frequency converter
Drive power 0.75 kW
Electrical supply data different voltages
Power connection 1-phase
Protection code IP 50
Power consumption ~ 750 W (VA)
W x H x D closed 1500 x 1200 x 700 mm
Net weight ~ 295 kg