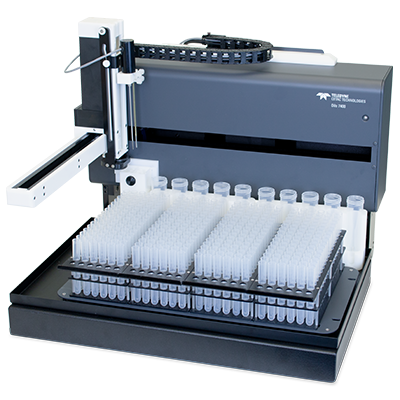 ​​​​​​​​​​​​​​​​​​​​​​​​​​​​​​​​​​​​​​​​​​​​​​​​​​​​​​​​​​​​​​​​​​​​​​​​​​​​​​​​​Oils 7400 Homogenizing Autosampler
Teledyne CETAC Technologies | Chromatography, Ion Analysis/Colorimetry, Sample Preparation - Inorganic
ne Autosampler for both oils and coolants
Oils testing laboratories are adding more sample types as their industry becomes more complex. The Oils 7400 Homogenizing Autosamplerallows two sample matricies to be introduced to an ICP instrument from the same system. Boasting a dual port rinse station fed by two separate peristaltic pumps, itcan change between oils and coolants testing on demand. With improved speed, mixing capability and sample drip capture, the Oils 7400 delivers robust analysis without compromise.​
Sample Homogenization
Used oil samples typically contain particulate material that can settle in a sample tube prior to analysis; this can lead to generation of non‑representative data. The Oils 7400 automation has been designed to resolve this problem.
Prior to analytical measurement, each sample is homogenized by the autosampler. A stirring paddle mounted next to the sample probe efficiently mixes each sample and, with the sample probe, is cleaned at the rinse station. Sample mixing is configurable, via a software dashboard, to meet the challenge of more viscous oil samples​.​