News
November 4, 2021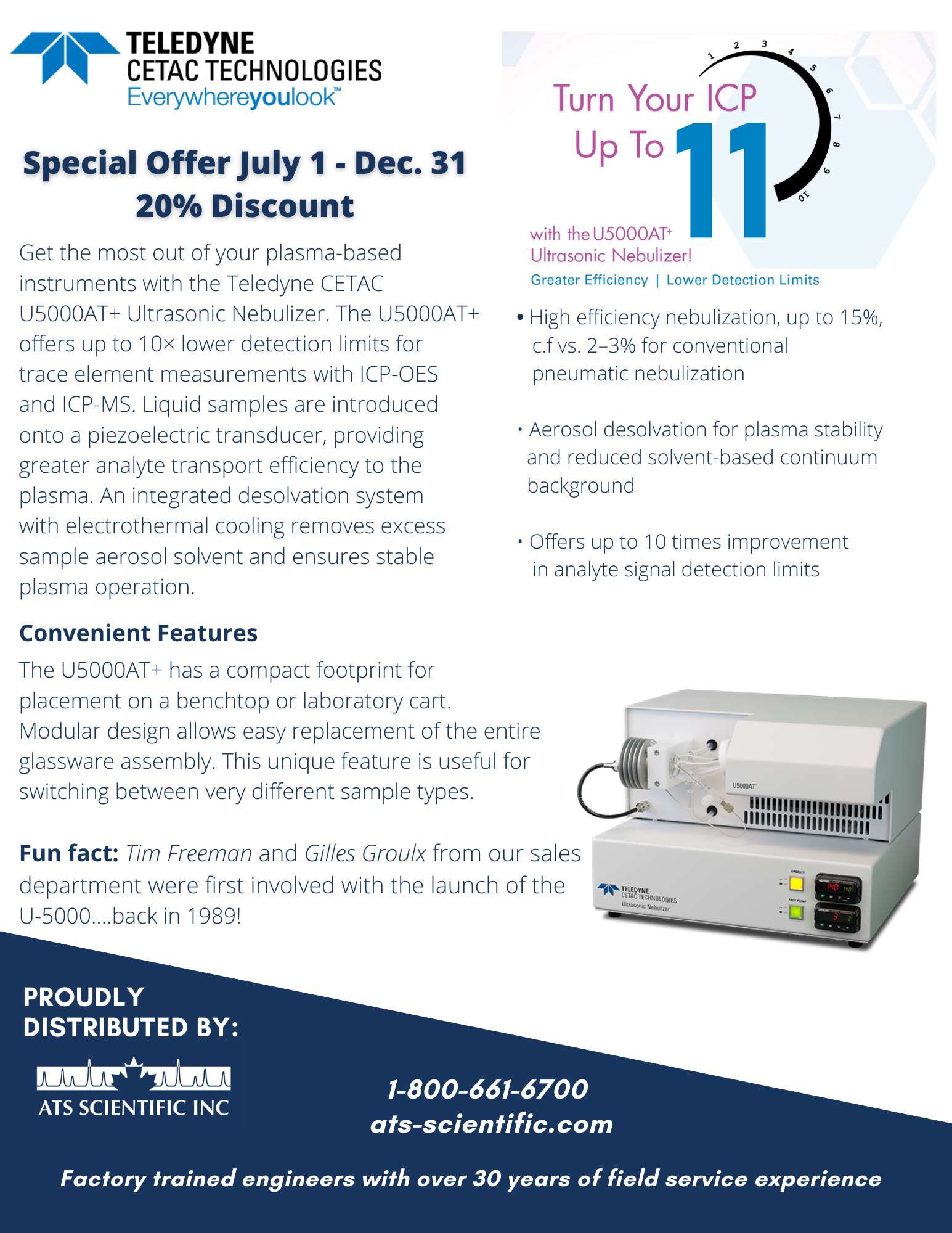 October 13, 2021

BURLINGTON, ON, Oct. 13, 2021 /CNW/ - ATS Scientific Inc. ("ATS Scientific" or "the Company"), a leading provider of high-quality Analytical Instrumentation, Sample Preparation and Materials Processing Equipment and service across Canada is pleased to announce that it has been acquired by an investment group including Ontario-based Aevi Capital and Sage Capital.
For more than 30 years, ATS Scientific has been delivering products to address the growing demand for laboratory equipment in Canada. It distributes, markets, and services critical equipment used in the Powders, Materials Science and Engineering, Environmental Science, Food and Feed, Mining and Earth Sciences, Pharma/Nutraceuticals, Petroleum and Energy, and Cannabis Testing industries. With a portfolio consisting of market-leading manufacturers such as Verder Scientific, Microfluidics, Milestone Inc., HORIBA Instruments, Micromeritics Instruments Corp. and many others. ATS is recognized as one of the most reliable and technically focused suppliers to the Canadian scientific community.
Aevi Capital's investment and operational resources will further support ATS' plans for continued growth and expansion. Aleks Sobot, Founder & Principal of Aevi Capital will assume the role of CEO at ATS Scientific. The current management team of Ian Heino and Gilles Groulx will continue to be integral parts of ATS Scientific.
On this new journey, new CEO Aleks Sobot commented, "ATS Scientific has a dedicated team of professionals whose technical expertise and focus on customer service has driven much of the company's success over the years. It has a sterling reputation known across Canada, a diverse customer base ranging from universities to government agencies to leading industrial and environmental laboratories and represents manufacturers on the forefront of technology and innovation. I am thrilled to be a part of this organization and look forward to accelerating its growth in partnership with Ian and Gilles and the company's equity investor Sage Capital Partners."
ATS Scientific's VP of Sales, Gilles Groulx, adds, "It's a great time in ATS' history to take on new partners and leadership. There are tremendous market opportunities in the industry as both public and private R&D spending continues to increase, and testing/quality control measures have never been more important."
With the renewed investment and focus, ATS Scientific is poised to strengthen its current operations in Canada as well as maintain its leadership team, brand equity and culture.
About ATS Scientific
ATS Scientific Inc. was founded in 1989 by Alex Heino as a small service organization, and has evolved into a full-fledged, well-respected sales and service organization serving the Canadian laboratory marketplace. The company has been successful in creating a team of dedicated professional staff who are by far its greatest asset, as well as long term relationships with valued customers and suppliers who have been fundamental to the company's success. Learn more at www.ats-scientific.com.
About Aevi Capital
Aevi Capital is a growth-minded investment firm that provides a flexible, tailor-made succession solution that is focused on the wants and needs of the entrepreneur. Aevi Capital focuses all of its time, energy and capital into partnering with a transitioning owner to operate and grow a business for years to come. Aevi Capital's Principal has significant experience in private capital investing building market-leading businesses. Learn more at www.aevicapital.com.
About Sage Capital Partners
Based in Toronto, Ontario, Sage Capital Partners is the first institutional fund focused on search fund investing in Canada. Sage supports both traditional searchers and non-traditional/self­-funded entrepreneurs in their quest to acquire and grow companies in the lower mid-market. Sage has extensive experience in a wide variety of businesses and industries and continues to actively pursue control and minority investment opportunities. Learn more at www.sagecapfund.com.
SOURCE ATS Scientific Inc.
For further information: Aleksandar Sobot, asobot@ats-scientific.com
https://www.newswire.ca/news-releases/ats-scientific-inc-receives-investment-from-aevi-capital-and-sage-capital-partners-846827754.html
April 29, 2021
The Catalyst Spring Issue 2021
Lee in his early days at ATS Scientific
| | | | | | |
| --- | --- | --- | --- | --- | --- |
| | L-R: Parag Bhargava, Mentor Lee, Philip Peterson | | | | |
Service engineers work extremely hard in our industry. They can be deployed at a moment's notice. When duty calls, Lee Durham, our senior service engineer, has always been a trooper.
He has been with ATS since early 1994 which started as a probationary position. Well, fast forward to 2021 and I guess the probation period is over!
Lee has been to every province (on several occasions!) and traveled across Canada extensively. For many of these trips he flies solo, however, it is always a pleasure to try and coincide travel to be with him at any of these locations. Our VP of Sales, Gilles Groulx recalls, "We have shared moments together from being on Signal Hill in Newfoundland on a very windy day to all points west."
With products constantly evolving, let alone computer technology and instrument interfaces evolving from floppies to thumb drives, Fortran, DOS to Win 10, this is a job that keeps one on their toes learning and adapting to all continuously. As a long-time employee, Lee has seen most if not all the progressive changes made at ATS. Lee has also mentored later arrivals into the department, always willing to help along the way.
In his spare time, Lee enjoys fishing and dining. He is also a big Star Trek fan and enjoys weather tracking.
Always appreciated, Lee Durham is definitely one of the good guys in the industry.
"

Influenza

" dates back to medieval times According to the Centers for Disease Control, the first known influenza pandemic struck in 1580.

Before the knowledge of contagion, it was believed that becoming ill was due to an intangible fluid given off by the stars; "

influenza delle stelle

", or literally the "influence of the stars" essentially attributed civilization's destiny to astrological forces pulling the strings.

Good thing we know better.
ATS Scientific Inc. is pleased to announce Parag Bhargava as Service Manager. Parag joined the company 10 years ago and will be overseeing the service department. He will also be providing technical support and assistance to customers on-site. Parag's mandate will include optimizing the current service offerings and propose new programs to better support our customers. As part of his role, he will be developing a virtual support program to help provide business efficiencies which include minimizing travel and cost.
"As the company continues to grow, we identified the opportunity to promote our service offerings, technical support and to strengthen the service department more actively," said Ian Heino Vice President of Operations. "Parag started out as a service engineer several years ago and has the service and technical capabilities to make him successful in the role."
Gorgeous Canadian Landscapes!
As an essential business, the sales team is trying to meet clients in person or virtually. In a most recent trip to the University of Calgary, our sales representative, Wei Zhang, took some time to visit the picturesque world-famous Lake Louise in Banff.
While putting clients' needs on priority, we are also enjoying the beautiful scenes along the way.
A MESSAGE FROM OUR VP OF OPERATIONS
| | |
| --- | --- |
| | While ATS Scientific is classified as an essential business under the Government of Ontario's Covid-19 criteria, our management team strongly believe that as an company we need to go over and above what is expected of us in order to contribute to our community and the greater good. Rest assured that we are here to assist our clients. Our technical and sales staff are working remotely and are just a phone call away to assist with your inquiries, our service engineers are still travelling to customers locations when it is deemed essential. We are here to help, stay safe and we look forward to seeing you again soon. |
The cATalySt is a company newsletter that goes out 3 times a year. It features company updates,
industry news and other curiosities happening in today's scientific research community.
Contact us at sales@ats-scientific.com for more info.
February 13, 2020

February 13th, 2020, Burlington, Ontario, Canada -- ATS Scientific Inc. is proud to announce their partnership as Canadian distributor and service provider for VUV Analytics, Inc. based in Cedar Park, Texas, USA.
VUV Analytics manufactures universal vacuum ultraviolet (VUV) spectroscopic detectors that provide a new dimension of chemical analysis accuracy. This unique technology is currently revolutionizing the oil and gas industry – specifically for fuels refining and petrochemical analysis. VUV Analytics recently launched the VUV Analyzer™ Platform for Fuels and associated applications used to analyze and certify a wide variety of fuels products including finished gasoline and jet fuel. This same platform also runs their Verified Hydrocarbon Analysis™ (VHA) application – a revolutionary approach to today's traditional Detailed Hydrocarbon Analysis (DHA). VHA provide more accuracy thanks to spectral validation, is more that 60% faster, and significantly easier to use ease-of-use compared to traditional DHA.
"We have been actively following VUV Analytics since they first commercialized their revolutionary technology and this is a perfect timing to pair with them to actively promote their products to our current and future customers," says Gilles Groulx, VP Sales & Marketing at ATS Scientific, "we are well positioned for success, and look forward to the short term existing opportunities in the fuels and petrochemical sectors and in promoting to other markets that their technology benefits." ATS Scientific distributes products for over 15 international analytical manufacturers and sells into a multitude of markets and applications.
"We are excited for the partnership with ATS Scientific to begin," stated Ray Himmel, Senior Vice President of Sales, VUV Analytics, "ATS Scientific has over 30 years experience in the Canadian analytical space and their reach within our target the markets will allow them to hit the ground running with our products." VUV Analytics has over 40 global distributors and over 35 Fortune 500 companies utilize VUV technology.
About VUV Analytics:
VUV Analytics manufactures universal vacuum ultraviolet (VUV) spectroscopic detectors that provide a new dimension of chemical analysis accuracy. VUV light crates unique spectral signatures in the gas phase that result in unambiguous compound identification and quantitative analysis across a wide spectrum of complex applications. Unlike legacy GC detectors, VUV detection delivers scalable data analysis automation with reduced analytical error and higher analytical throughput. Learn more about their products at https://vuvanalytics.com.
About ATS Scientific:
ATS Scientific Inc., based in Burlington, Ontario is a well established Canadian scientific instrument focused distributor. They recently celebrated their 30th year in business and have experienced unprecedented growth over the last couple years. Additional staff have been hired and they have recently opened Technology Centre at their head office, which includes a state-of-the-art demonstration/applications laboratory. Learn more at https://ats-scientific.com/.