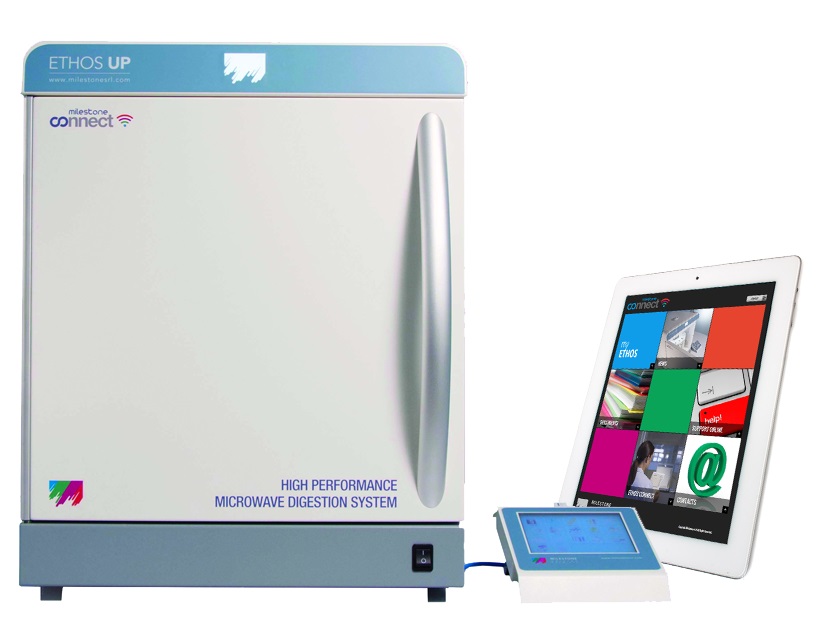 Ethos UP Microwave Digestion System
Milestone Inc | Sample Preparation - Inorganic, Materials Processing, Cannabis Testing
The ETHOS UP fully embodies Milestone's philosophy towards, and knowledge of, microwave sample preparation. Specifically designed for closed vessel acid digestion, it offers a perfect integration of microwave hardware, user interface, reaction sensor technology and pressure resistant vessels. The ETHOS UP is the most powerful system in the market, with two magnetrons and a total power of 1900 Watts. Microwave homogeneity is assured through a dedicated microwave diffuser. Safety and reliability are Milestone's priorities. Both factors are ever present in the foundation of the ETHOS UP's design. The cavity has a volume in excess of 70L, and is constructed entirely of stainless steel to ensure longevity and structural integrity. Our unique pressure responsive door, also made of stainless steel, ensures superior safety even with the most reactive samples. The safeVIEW high definition digital camera allows for safe viewing of the interior of the microwave cavity.
Features:
- True vent-and-seal technology for unsurpassed safety and performance
- Corrosion-resistant stainless steel construction of chassis, cavity, and door
- Continuous and PID-controlled microwave emission at all power levels
- Internal video camera for constant run monitoring

Smart Software to Save You Time:
The ETHOS UP comes with a dedicated touch screen terminal with easyCONTROL software which incorporates our expertise and knowledge in microwave sample preparation. The ETHOS UP user-interface provides full control of all digestion parameters, complete documentation and improves the overall procedure. The terminal is equipped with multiple USB and Ethernet ports for interfacing the instrument to external devices and the laboratory network.The ETHOS UP controller is user-friendly, icon-driven, multi-language and 21 CFR Part 11 compliant. To find the method which best suits your application, simply select one of the hundreds of preloaded methods, or simply create a new one yourself using our intuitive software.
Sample Types: