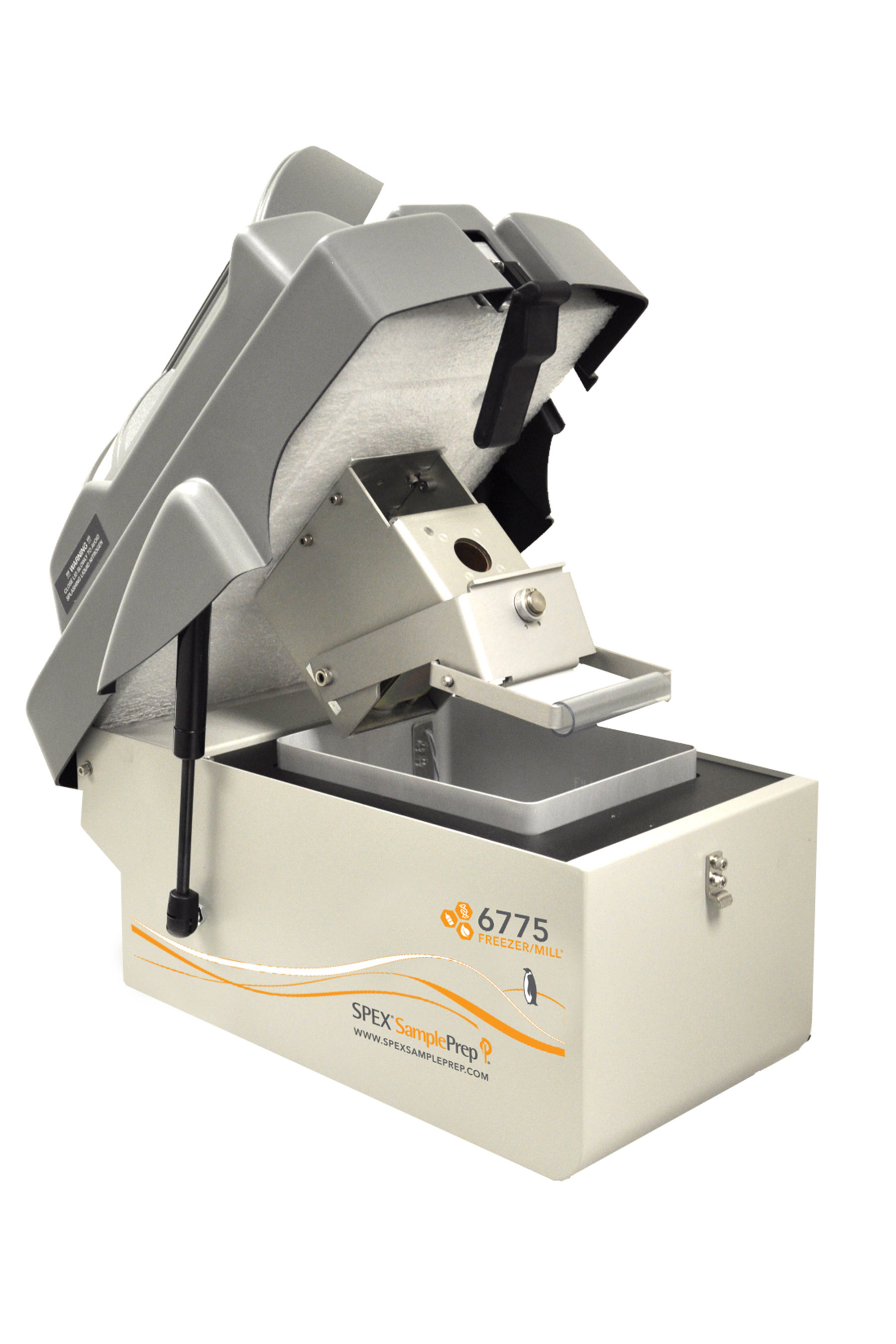 Freezer/Mill 6775
SPEX SamplePrep | Sample Preparation - Inorganic, Sample Preparation - Organic
The 6775 Freezer/Mill® is our small cryogenic mill that accommodates sample sizes ranging from 0.1 - 4 grams. It is specifically designed for cryogenic grinding and pulverizing of tough and/or temperature sensitive samples immersed in liquid nitrogen.
The new high resolution display is user-friendly and includes the following features:
Run history which is uploadable to a thumb drive via USB
Training videos and manuals that can be viewed on the screen.
A complete listing of accessories
Applications include: DNA/RNA extraction, THC extraction, protein extraction, forensic testing, materials testing, pharmaceutical analysis, USP 232, drug testing, RoHS/WEEE and volatiles extraction.
Typical samples include:Animal tissue,plastic and polymers, yeast, pharmaceuticals, food products, electronic components, textiles, hair, teeth, bones, plant tissue such as cannabis, seeds, leaves and roots.
Key Features and Specifications
Coil holds one Microvial Set or one Small Grinding Vial
Equipped with liquid nitrogen level sensor and lid safety interlock for operator protection.
Grinding Vial Sets offered in a variety of materials including polycarbonate, stainless steel, and Cr-free steel.
Grinds samples in the 0.1 - 4 gram range.
Liquid nitrogen required for operation.
Magnetically driven impactor is the only moving part so there are no mechanical linkages or bearings to fail.
Pre-cooling chamber holds up to three additional grinding vials for high-throughput sample processing.
Programmable parameters include grinding time, impactor rate, pre-cooling and cooling times.
Small cryogenic impact grinder with self-contained liquid nitrogen tub and insulated case.
Stores up to 10 user-defined grinding programs for quick and easy recall.
Closed grinding vials eliminate sample cross-contamination, retain volatiles, control hazardous or critical samples, and simplify clean-up.
More Information