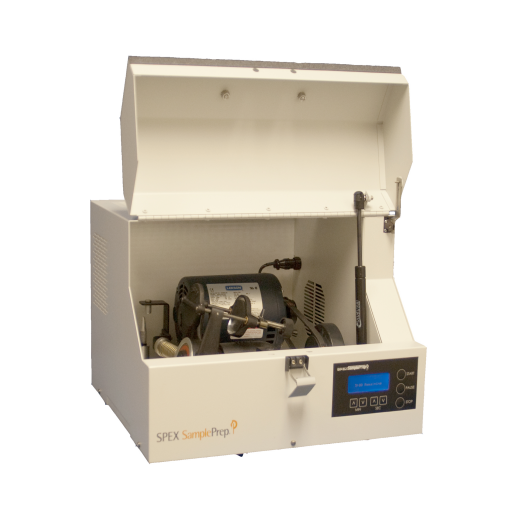 8000M Mixer/Mill® High-Energy Ball Mill
SPEX SamplePrep | Sample Preparation - Inorganic
Small high-energy ball mill that accommodates sample sizes ranging from 0.2 - 1.5 grams. Ideal for grinding and pulverizing brittle samples, slurry grinding, and mixing powders.
Key Features and Specifications
Also called a shaker mill or high-energy ball mill.
Equipped with safety interlock system for operator protection.
For grinding samples in the 0.2 - 1.5 gram range or mixing up to 5 mL of sample.
Highly effective laboratory impact grinder and blender offering many advantages over other small mixers.
Holds three vials of 1/2 in. (12.7 mm) diameter or two vials of 3/4 in. (19.1 mm) diameter. Length of vials up to 21/4 in. (57.2 mm).
Push-button, resettable 30-minute timer on the 5100-115 Mixer/Mill.
Push-button, resettable 72-minute timer on the 5100-230 Mixer/Mill.
Reduces samples to analytical fineness and commonly used to blend samples with KBr for IR analysis.
Shock mounted motor enables bench top operation.
Steel housing protects the clamp mechanism and rugged construction ensures a long life of heavy work.
Wide selection of grinding and mixing vials available including polystyrene, polycarbonate, hardened steel, stainless steel, tungsten carbide, and agate.
More Information