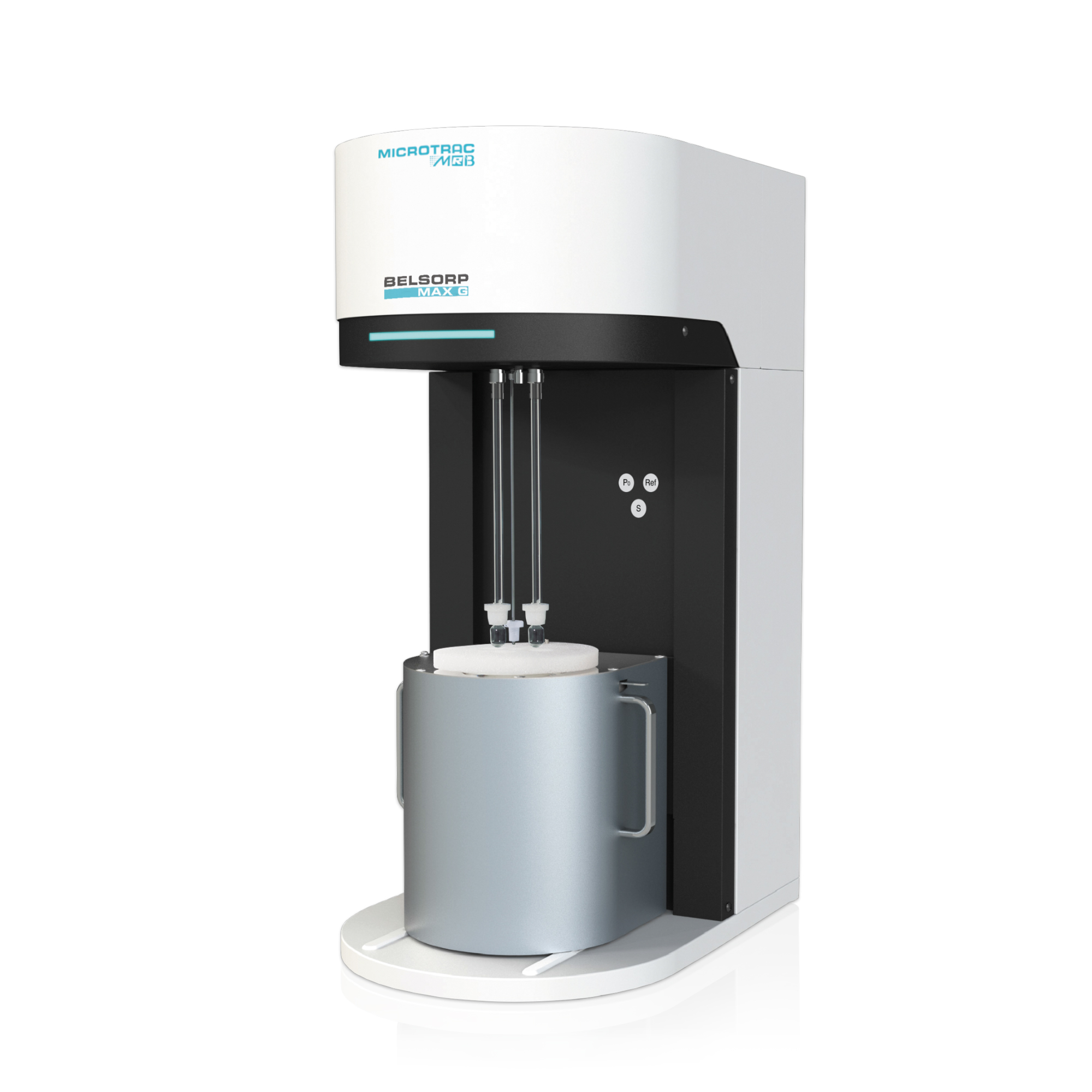 BELSORP MAX G
Microtrac MRB | Surface Area and Pore Size

Quick, Easy Characterization of Powder Materials with the Highest Accuracy
The BELSORP MAX G is a powerful, compact, and economical model in Microtrac's BELSORP MAX series of BET specific surface area and pore size analyzers. It allows the measurement of gas adsorption isotherms starting from extremely low pressures for the evaluation of micro-, meso- and macroporous materials, as well as non-porous materials.
The analyzer is equipped with one measurement port, one dedicated port for saturated vapor pressure measurement, and one port for free space (dead volume) analysis. Each port is equipped with a dedicated pressure sensor for high-precision analyses.
The BELSORP MAX G surface area & pore size distribution analyzer is capable of analyzing a wide range of materials, including pellets, molded bodies, substrates, and finely dispersed samples thanks to specially designed sample tubes.
The unit also supports a wide range of adsorbates and measurement conditions. The instrument is available in two different versions, making it suitable for a wide range of applications: BELSORP MAX G LP (Low Pressure) and BELSORP MAX G MP (Medium Pressure). Either version is equipped with a specific pressure transducer to best suit your needs.
Ease of use – Simple Setting of Measurement Conditions
The BELSORP MAX G has a fully automated system that enables the user to easily setup measurement conditions through 'Simple Mode'. This mode makes sample analysis a breeze by only requiring minimal user entry (e.g., sample information, pretreatment conditions and measurement range). This is particularly useful for unknown materials and for the application of standard operation procedures. Detailed measurement configurations can be set by experienced users by selecting the 'Professional Mode'.
Downloads