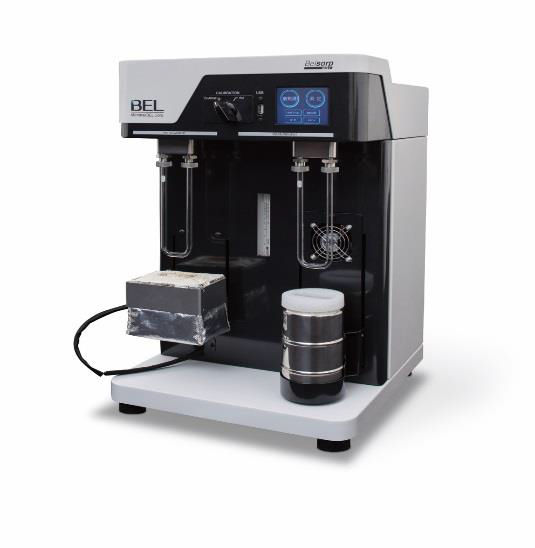 BELSORP MR1 BET Surface Area Analyzer
Microtrac MRB | Surface Area and Pore Size, Polarimeters

The BELSORP MR1 is designed for rapid and convenient BET single-point measurement.
Highly efficient measurement
Simultaneous pre-treatment and measurement improve process efficiency.
BET single-point measurement of specific surface area possible in approx. 15 mins (including calibration).
Highly accurate measurement
AUTO-ZERO function is equipped with a highly sensitive thermal conductivity detector (TCD)
High accuracy, high sensitivity, high reproducibility
A dedicated calibration valve enables simple and stable calibration measurements
Automatic measurement of temperature and pressure for accurate calibration.
Easy Operability
Easy handling thanks to an automatic Dewar elevator and a cooling fan
User-friendly touch panel
Measurement results and trend data can be saved to a USB memory drive
Compact design without external PC
Technical Data
| | |
| --- | --- |
| Measurement principle | Dynamic flow gas method (Single point BET) |
| Detector | Thermal Conductivity Detector (TCD) |
| Adsorption gas | N2 / Kr |
| Carrier gas | He |
| Number of measured samples | 1 |
| Pretreatment temperature | Up to 400°C |
| Measurement range | 0.01 m2/g and above |
| Repeatability | within ±1.0% |
| Measurement time | Approx. 15 minutes (including calibration, excluding pretreatment time) |
| Dimensions (W x H x D) | 350 x 553 x 368 mm |
| Weight (main body) | 30 kg |
| Utility - Power | AC 100 - 120 V / AC 200 - 240 V, 400 W, 50 / 60 Hz |
| CE certified | yes |
Downloads