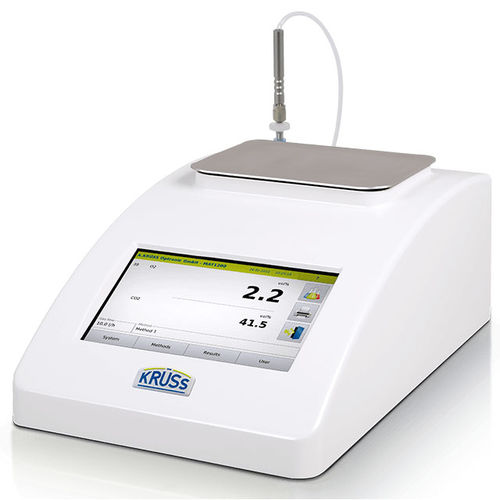 Gas Analyzer Series
A. KRÜSS Optronic GmbH | Gas Analyzers
A.KRÜSS gas analyzers provide fast, reliable measurement results. They are used by many companies for the quality inspection in the lab but also at the production line if sensitive or perishable products are filled or packaged. Our Modified Atmosphere Testers (MAT) are suitable for both the random sampling and the permanent monitoring of the gas mixture used on packaging machines.


INDIVIDUAL SOLUTIONS FOR ANY MODIFIED ATMOSPHERE:
MAT1100 - Entry-level model for sample checks

The MAT1100 is the right choice whenever you only need to be concerned with the oxygen concentration orwhenever only nitrogen is used. Its electrochemical oxygen cell (EC) measures within the range of 0.5 and 35 volumeper cent and with an accuracy of ±0.2 volume per cent. Unlike our other models, the MAT1100 requires very littletime to heat up and can therefore be quickly used for occasional measurement or in case of frequent "changesof location".

MAT1200 -The economical solution for O²and CO²measurements
If you need to measure the concentrations of oxygen and carbon dioxide, then the MAT1200 will be the appropriatemodel. In addition to an electrochemical oxygen cell, it features a non-dispersive infrared sensor (NDIR) for the CO² measurement over the measuring range of 0 and 100 volume per cent and with a high accuracy of ±0.5 volumeper cent. The MAT1200 hence covers most carbon dioxide applications in modified atmosphere packaging – at a veryattractive price.

MAT1400 - The specialist for fast, high-precision oxygen measurements

The zirconium dioxide sensor (ZrO²) of the MAT1400 measures the oxygen concentration over the entire measurement range between 0 and 100 volume per cent.Especially in case of a very low concentration, it will achieve an excellent accuracy of ±0.001 volume per cent.The MAT1400 is therefore suitable for the inspection of oxygen-free as well as oxygen-rich modified atmospheres.It can also be used in the cold storage room from ambient temperatures of 10°C.

MAT1500 -The all-rounder for highest standards
Fitted with a zirconium dioxide sensor and a non dispersive infrared sensor, the MAT1500 combines the advantages of the MAT1200 and MAT1400 and is our number one when it comes to the range of application, performance and precision. The measurements are completed within only approx. ten seconds. As is the
case with the MAT1400, highly precise results can be achieved with single measurements of oxygen concentrations thanks to the min/max detection even if only a small sample volume is available.