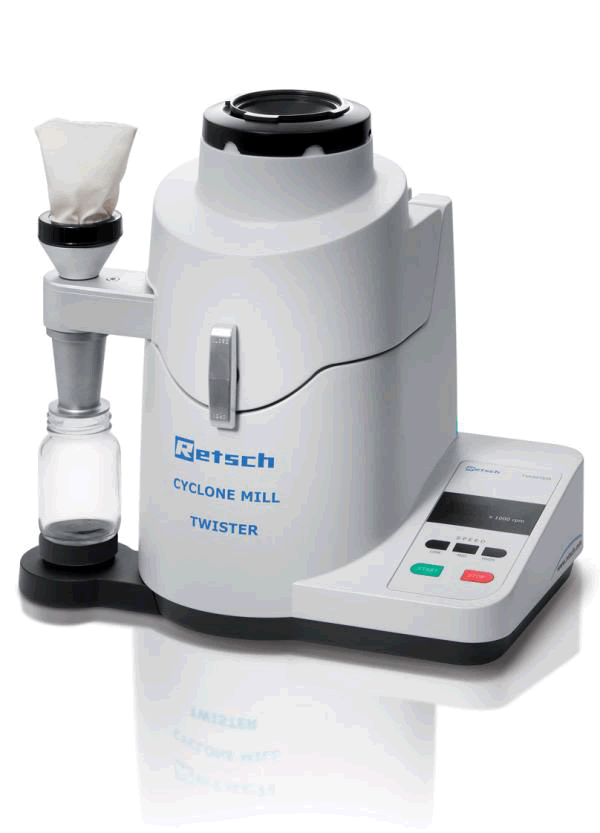 Cyclone Mill Twister
Retsch | Sample Preparation - Inorganic, Sample Preparation - Organic



The Cyclone Mill TWISTER is specially designed for the processing of foods and feeds for subsequent NIR analysis. The optimized form of rotor and grinding chamber generates an air jet which carries the ground sample through the integrated cyclone into the sample bottle. The air jet prevents the material from heating up, thus preserving the moisture content.
The provided sieves guarantee an optimum particle size distribution so that it is not necessary to recalibrate the NIR spectrometer. The rotor speed can be adjusted in 3 steps allowing for perfect adaptation to the sample requirements. Cleaning the mill is quick and easy as the air jet effects a complete discharge of the material from the grinding chamber.
This new cyclone mill in proven RETSCH quality optimizes the reproducible sample preparation to NIR analysis thus allowing for meaningful and reliable analysis results.
Key Features and Specifications
Ideal for grinding feeds, grains, forage and other similar products
3 controlled speeds
Cyclone separator with 250 ml collecting bottle for quick extraction of sample
No cross contamination thanks to easy cleaning
Convenient operating panel
Robust industrial motor 900 W with long lifetime
More Information