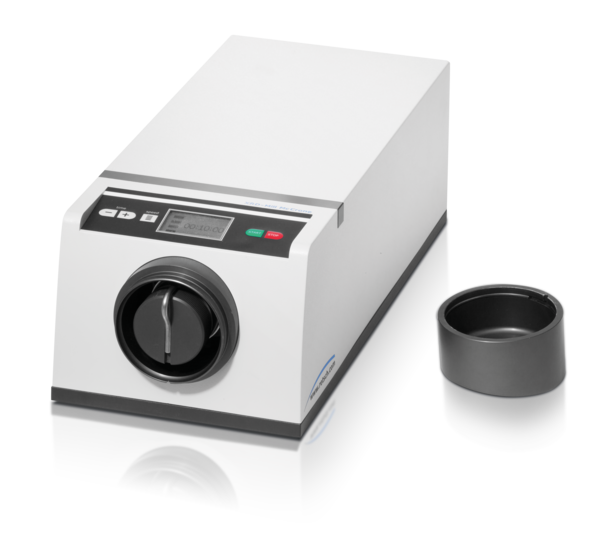 XRD Mill McCrone
Retsch | Sample Preparation - Inorganic
The XRD-Mill McCrone was specially developed for the preparation of samples for subsequent X-ray diffraction (XRD). The mill is used for applications in geology, chemistry, mineralogy and materials science, quality control as well as R&D.

Because of its unique grinding motion, the XRD-Mill McCrone is particularly effective for this analytical method: The 48 cylindrical grinding elements grind the samples gently via friction. The result is a short grinding time with almost no sample loss and an exceptionally narrow particle size distribution.
The crystal lattice is almost entirely preserved during grinding operation, a premise for meaningful X-ray diffraction.

The grinding vessel consists of a 125 ml capacity polypropylene jar fitted with a screw capped gasketless polyethylene closure. The jar is filled with an ordered array of 48 identical cylindrical grinding elements, available in agate, zirconium oxide or corundum. The grinding time for optimum micronization is between 3 and 30 minutes. A typical sample volume is between 2 and 4 ml.
APPLICATION EXAMPLES
bones, borides, carbides, cement, ceramics, clay, construction materials, glass, metals, mica, minerals, nitrides, plant materials, slate
PRODUCT ADVANTAGES
crystal lattice preserved during grinding operation
very narrow and reproducible particle size distribution
minimal cross contamination
compact, bench-top sized model
adjustable grinding power (4 steps)
suitable for dry and wet grinding
easy to clean
almost maintenance-free
quiet operation
FEATURES
Applications: grinding, mixing and triturating, dry and wet
Field of application: X-ray diffraction
Feed material: medium-hard, hard, brittle, fibrous
Material feed size: < 0.5 mm
Final fineness: < 1 µm
Speed at 50 Hz (60 Hz): 1,000 - 1,500 min-1 in 4 steps
No. of grinding stations:1
Typical mean grinding time: 3 - 30 min
Dry grinding: yes
Wet grinding: yes
Cryogenic grinding: no
Material of grinding tools: agate, zirconium oxide, corundum
Grinding jar sizes: 125 ml
Setting of grinding time; digital, 00:00:10 to 99:59:50
Drive: DC-Motor
Electrical supply data: 120 V, 50/60 Hz
Power connection: 1-phase
Protection code: IP 30
Power consumption: 100W
W x H x D closed: 205 x 155 x 520 mm
Net weight: ~19 kg