News
November 9, 2017
ATS Scientific Inc. is proud to announce their appointment as exclusive Canadian distributor and service provider for Teledyne Tekmar.
Teledyne Tekmar is a leader in the design and manufacturing of analytical instrumentation for the laboratory providing productivity-enhancing instrumentation and solutions to a number of industries.
Their world-renowned product lines include Volatile Organic Compound (VOC) systems for Gas Chromatography (GC) Sample Introduction, High-Throughput Purge and Trap sample concentration, Static and Dynamic Headspace analysis, and Sample Automation. The Total Organic Carbon (TOC) and Total Nitrogen (TN) Analyzers provides unparalleled accuracy, precision, throughput and robustness for water samples. The automated QuEChERS sample preparation workstation handles Semi-Volatile Organic Compounds (SVOC) samples from homogenate to extract.
Whether your industry is environmental, food and beverage, forensics, petrochemical, pharmaceutical or plastics and polymers, Tekmar has a solution for you. The teams of experts at Teledyne Tekmar and ATS Scientific Inc. are working hard to provide you with the knowledge you need to be on top of your industry.
March 27, 2017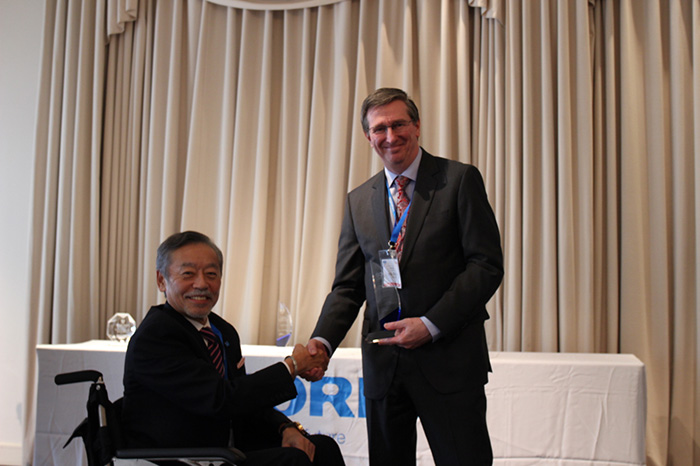 At the HISM (HORIBA International Sales Meeting) held March 13-15, 2017 in Kyoto, Japan, ATS was recognized by HORIBA for their 25 year partnership. Gilles Groulx, V.P. Sales and Marketing attended the meeting on behalf of ATS Scientific and is seen above accepting this distinction from Mr. Atsushi Horiba, Chairman, President and CEO of HORIBA, Ltd. All is well with Mr. Horiba, as he is recovering from a broken ankle!
ATS must also acknowledge the valuable support provided to us in Canada by Dr. Michael C. Pohl of HORIBA Instruments, Inc. and his group in Irvine, California over this entire relationship.
Gilles was also asked to give a presentation as part of the program and he drew several comparisons between the two companies even though they are very different is size. Long term employees and their valued contributions, importance of family and focus on educating clients were outlined as key factors in managing our successful companies.
Both parties look forward to many more years together!
July 1, 2016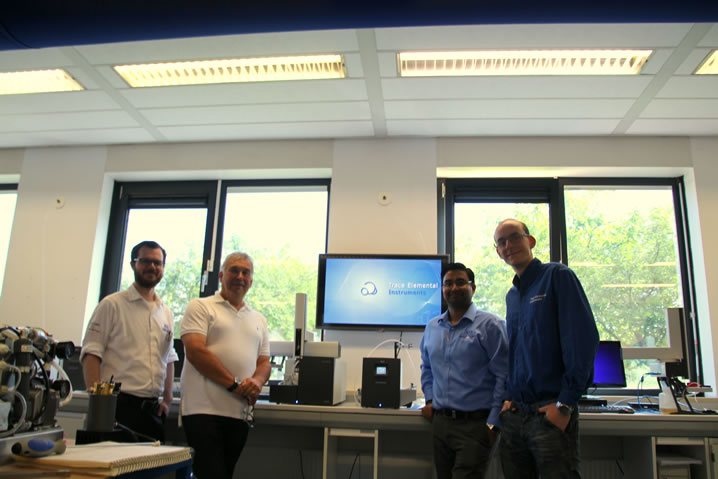 ATS Scientific Inc. is proud to announce their appointment as TE Instruments' Canadian Distributor for their broad range of Combustion based Analyzers used in the Petroleum, Bio Fuels and Environmental sectors. Parameters such as Total Sulfur, Total Nitrogen and Total Halogens can be measured on a variety of sample types and meet stringent international standards and ASTM methods.
Their XPLORER series of instruments with multiple injection system platforms enables optimal application flexibility for liquid, solid and Gas/LPG matrices, along with measurements such as AOX, TOX, EOX and POX.
ATS Scientific has successfully sold and supported a wide range of synergistic Petroleum and other market segment equipment for over 25 years and looks forward to helping their existing clients and forging new business opportunities by offering TE Instruments' exceptionally versatile equipment.
ATS Scientific have initially committed to having two of their service engineers to be fully trained at the factory in the Netherlands, and can offer immediate technical support to all existing users in Canada.
March 4, 2014
ATS Scientific Inc. is proud to announce their appointment as Rigaku Raman Technologies exclusive Canadian Distributors for their handheld and portable Raman Spectrometers.
Rigaku Raman Technologies is a leading innovator of handheld and portable Raman Spectrometer products and have set new benchmarks in molecular spectroscopy by providing advanced analytical solutions that offer multiple laser excitation options - 785 nm and/or 1064 nm. Their best in class 1064 nm laser excitation spectrometers are used in chemical verification, laboratory research, counterfeit screening, security and narcotics identification. Users can simply point and scan through colored glass, plastic or other materials and obtain both qualitative and quantitative data with the Chemometrics software option.
Clients include Academia, Chemical Manufacturing, Law Enforcement, Narcotics, Pharmaceutical and more. ATS Scientific has reliably sold synergistic product lines to these clients for over 25 years and welcomes this newest addition.
Demonstration units are available for immediate evaluations and we look forward to the opportunity of illustrating the powerful applications with portable Raman Spectroscopy.