News
July 20, 2015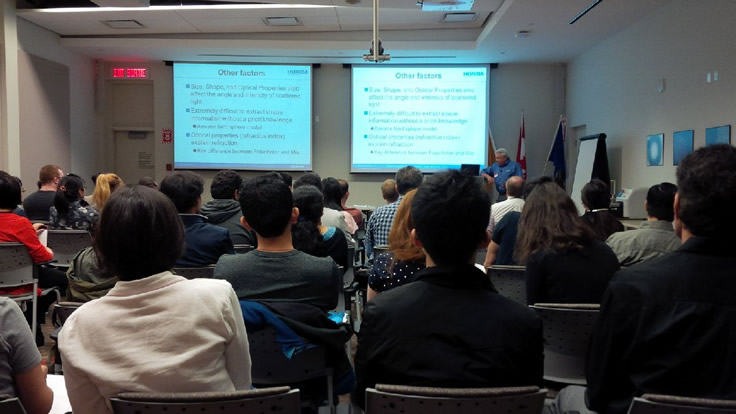 ATS Scientific Inc. is active in helping their wide range of clients by hosting focus groups and Workshops
Recently at the University of Alberta's National Institute for Nanotechnology (NINT) facility, a one day workshop for Particle and Materials Processing Industry Professionals was held and attracted over 60 attendees. Various topics presented included High Pressure Gas Sorption by Dr. Charlie Thibault of Quantrachrome Instruments, Light Scattering techniques presented by Frank Bath of HORIBA Scientific, High Shear Fluid Processing presented by Joseph Emili of ATS Scientific Inc. for Microfluidics Corp., Vapor Sorption (water & organic vapor adsorption and desorption) presented by Dr. Charlie Thibault of Quantachrome Instuments, Digital Imaging contrasting particle shape and size identification presented by Frank Bath, HORIBA Instruments, Electroacoustic Spectroscopy presented by Joseph Emili of ATS Scientific for Dispersion Technology Inc.
Q&A Workshop for Microwave Digestion users to help improve productivity
Two Lunch and Learn Seminars were held at the Ontario Ministry of Environment, Toronto Resources Rd and at Agriculture Canada in Ottawa. Topics presented by Johan Norte of Milestone US included new ways to boost productivity of sample digestions, minimizing sample contamination by using closed vessel microwave digestion and a Single Reaction Chamber microwave digestion system for mixed batches of samples and digestion acids. The events were well attended with 80 professionals from Academia, Private Analytical and Government Testing laboratories.
June 22, 2015
Since the company's inception in 1989 as a service based organization, originally known as Analytical Technical Services with a handful of employees, ATS Scientific Inc. has expanded as a nationwide distributor of high quality scientific instrumentation offering complete sales and service capabilities.
ATS Scientific attributes their success to loyal and dedicated employees who deliver exceptional customer service to their valued clients who have come to trust them. With four locations across Canada, their wide range of services and long term relationships that they have forged with their suppliers has enabled them to become a successful partner for the Canadian marketplace.
They are very grateful for their success over their first 25 years, and look forward to continued growth and to maintain positive relationships with new and existing customers and suppliers.
April 1, 2014
ATS Scientific Inc. is proud to announce their appointment as Carbolite's Canadian Distributors for their wide range of Ovens and Furnaces up to 3000 °C.
Carbolite, leaders in heat technology offer a wide range of Universal Laboratory Ovens, High Temperature Ovens, Application Specific Ovens, Clean Room Ovens, Industrial Batch Ovens, Chamber Furnaces, Ashing Furnaces, Tube Furnaces, Industrial Batch Furnaces and Custom Designed Application Specific Furnace and Ovens.
Carbolite's flexibility and ability to solve customers' individual application requirements have systems being used in a wide range of industries including: Aerospace (NADCAP AMS2750E), Engineering, Materials Science, Heat Treatment Processing, Medical laboratories, Bioscience and Contract Testing Labs to name a few.
ATS Scientific has reliably sold a wide range of synergistic sample preparation equipment to these clients for over 25 years and looks forward to helping their existing clients and forging new business opportunities by offering Carbolite's high quality ovens and furnaces.
March 4, 2014
ATS Scientific Inc. is proud to announce their appointment as Rigaku Raman Technologies exclusive Canadian Distributors for their handheld and portable Raman Spectrometers.
Rigaku Raman Technologies is a leading innovator of handheld and portable Raman Spectrometer products and have set new benchmarks in molecular spectroscopy by providing advanced analytical solutions that offer multiple laser excitation options - 785 nm and/or 1064 nm. Their best in class 1064 nm laser excitation spectrometers are used in chemical verification, laboratory research, counterfeit screening, security and narcotics identification. Users can simply point and scan through colored glass, plastic or other materials and obtain both qualitative and quantitative data with the Chemometrics software option.
Clients include Academia, Chemical Manufacturing, Law Enforcement, Narcotics, Pharmaceutical and more. ATS Scientific has reliably sold synergistic product lines to these clients for over 25 years and welcomes this newest addition.
Demonstration units are available for immediate evaluations and we look forward to the opportunity of illustrating the powerful applications with portable Raman Spectroscopy.
November 28, 2013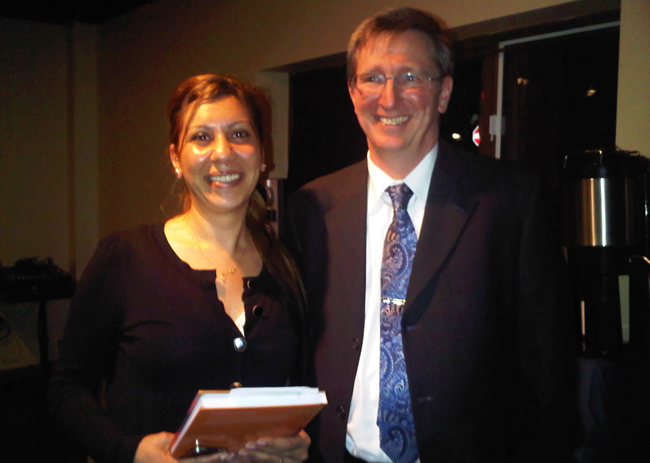 ATS Scientific Inc. actively participated at the 59th ICASS and Spectr'Atom conference, held June 25-28th at the Grand Lodge, in Mont-Tremblant, QC. This was the first combined event for the Canadian based CSASS' annual ICASS (International Conference on Analytical Sciences and Spectroscopy) and the annual conference of Spectr'Atom, the Spectroscopy society based in France.
Along with being a conference exhibitor showing their many spectroscopic products, ATS staff presented two technical papers in both official Canadian languages on the new Milestone UltraWAVE laboratory microwave system.
ATS Scientific also provided an award for best student poster to PhD student Azza Habibi of IRSN (Institut de Radioprotection et du Surete Nucleaire) in Orsay, France. Her poster presentation showed the analysis of uranium and thorium in environmental samples by a combination of liquid chromatography and ICP-MS. The results obtained provide us with a better understanding of the properties of thorium. Excellent performance in terms of efficiency, accuracy and reproducibility were obtained, with protocols taking less than two hours. Applying this coupling technique to other radionuclides could be useful in the event of a nuclear accident. Pictured are Azza and Gilles Groulx of ATS Scientific at the conference banquet.